Harlequins U18s 21 Chiefs U18s 12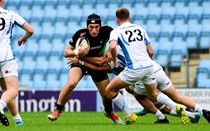 By Mark Stevens
13/1/20
Exeter Chiefs Under-18s are still looking for their first win of the season in the Premiership Rugby Under-18s League after they came unstuck away to Harlequins last weekend.
Having been defeated by Saracens and Bath in their opening two games, hopes were high that the young Chiefs could get their campaign finally up and running at Rosslyn Park.
In a tight first half, No.8 Ben Grubb claimed their opening try, after the Chiefs fell behind to a converted score from Kitan Ojo on seven minutes.
Harlequins extended their lead early in the second half with a converted try from Cassius Cleaves only for the visitors to hit back with a try of their own through Bailey Williams, which was converted by Frankie Nowell.
Exeter continued to push forward for further reward, but were undone when Quins' centre Bryn Bailey claimed their third try to which Josh Tusler added the extras.
Try as they may, the Chiefs were unable to add to their tally and eventually went down 21-12.
Harlequins: C Slevin (G Jeavons 14); K Ojo, O Beard, B Bradley, C Cleaves; J Benson (J Tusler 28), J Bailey (B Potter 45); W Hobson (D Ofori-Manteaw 35), J Staples (B Wilding 50), F Baxter; E Powell (C Preen 35), O Corbett; E Croy, M Alikhan, T Johnson (E Timpson 55).
Tries - Ojo, Cleaves, Bradley; Conversions - Benson, Bailey, Tusler
Chiefs: F Nowell; K Gentry (J Capaldi 46), A Hill, C McCaig, B Orchard; J Carden (W Becconsall 53), T Cairns (J Pilkington 53); E Pearce-Cowley (B Williams 36), H Hocking (O Jeffrey 54), H Wilkinson (N Karea 54); M Hallam, C Tshiunza; J Elsworth (S Leaworthy 24, J Ellis-Brookes 54), J Bond, B Grubb (H Hocking 66).
Tries - Grubb, Williams; Conversion - Nowell