Hepher targets fast start on return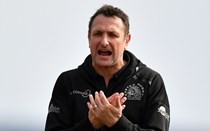 By Mark Stevens
23/7/20
Exeter Chiefs head coach Ali Hepher is expecting a 'fast and furious' conclusion to the 2019/20 season when it kicks back into action next month.
With play halted in mid-March following the outbreak of COVID-19 around the world, the Chiefs are set to resume their Gallagher Premiership campaign again on Saturday, August 15, when Leicester Tigers are the visitors to Sandy Park.
Like all of us, Hepher has had to stay at home and play the waiting game whilst lockdown restrictions have been eased. Now, though, he is hoping to help mastermind the Chiefs' battle plan as they go in search of glory on two fronts.
Already six weeks into training, which started initially with non-contact elements in Stage One, the Chiefs are now starting to ramp things up with full, contact sessions in Stage Two.
Hepher, like Director of Rugby Rob Baxter, has been delighted with the way the Chiefs players have not worked during lockdown, but also their approach since returning to training at the club.
"It's exciting times, especially seeing the guys getting involved in some proper rugby training," he said. "This week we've been able to knock things on another level – and it looks like the guys have not had a break. They are right on top of things and that's pleasing because it means we can push forward and, hopefully, hit the ground running."
Although the make-up of the Chiefs squad remains largely the same from that before lockdown, there have been comings and goings, including Baxter bringing in seven new faces in the form of Jonny Gray, Sam Hidalgo-Clyne, Aaron Hinkley, Corey Baldwin, Josh Hodge, Jack Walsh and Facundo Cordero.
The latter is yet to arrive in Devon, but the rest have all been training so far with their new club and Hepher has said the break in proceedings has allowed them to get some quality knowledge and prep time into the players.
"In some ways it's been a bit easier than normal when a new player comes in," explained Hepher. "Because we've not been going full speed at things, we've been able to get some good video analysis into the guys. We've also been able to talk to them, and go through various things which, in a good way, means they are already a notch on from people in the past.
"It's allowed us to move forward a lot quicker for sure, but nothing beats doing reps out on the pitch. Already they are talking about how they are getting it, but being able to work on them constantly in training will only improve things and allow us to move forward."
With games set to come thick and fast once rugby does resume, Hepher acknowledges it will throw up some unusual challenges for coaches and players alike.
"It's not going to be bog standard, week-to-week rugby," he added. "Midweek fixtures coming into play will throw up different challenges and will test squads, so there will be a lot about how we manage the squad in terms of game time and training.
"Like always, we back ourselves on and odd the field and tactically the key thing will be to make sure we get ourselves in the right frame of mind for each game as they come. Because of what has happened, it's not going to be a big slog like it normally is. It's going to be fast and furious, but it's also going to be very exciting.
"I think all of us realise the prizes are close, but to get anywhere near them you have to get the hard work done here and now. That's why it's going to be important that we hit the ground fast and make the most of the opportunities when they are presented to us.
"We've got Leicester in that first game and although we will look at them and the threat they pose, the most important aspect will be about making sure we get our own game in order first and foremost. Between now and that start day, we have to maximise every part of our work to ensure we are in the best position possible to attack the remainder of the season."