Hidalgo-Clyne can't wait to get started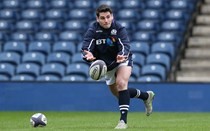 By Mark Stevens
5/6/20
The hard work has already begun for Exeter Chiefs newcomer Sam Hidalgo-Clyne, even though he is yet to formally meet his new team-mates at Sandy Park.
Like all of us, the Scottish international has been forced into lockdown since arriving in Devon, training on his own and enjoying family life in his new Westcountry surroundings.
Having completed his switch across the English Channel early from French Top14 side Lyon, the 26-year-old is now counting down the days to when he can kick-start his career with the Chiefs.
With Premiership Rugby today confirming they have targeted Saturday, August 15 as a potential start date for the 2019/20 season to resume, top-flight clubs are poised to resume Stage One training within the next few weeks.
That means Hidalgo-Clyne will get the chance to report into Chiefs life for the first time and he says he cannot wait to get started at his new club.
"It's been hard for me because the excitement is there f about joining the club, but all of us have been living week by week through this lockdown," he said. "When we do get the chance to get back into training, it's going to be a great feeling. Obviously, I've been doing stuff at home on my own, but there is only so much you can do in that respect."
As well as keeping his fitness levels up to speed, the gifted scrum-half has also used the lockdown period to engage himself in online conversations with members of the club's coaching staff, keen to get himself up to speed on patterns of play, tactics and how the Chiefs see the remainder of the season panning out.
"It was good to chat with Ali [Hepher] and Ricky [Pellow]," added Hidalgo-Clyne. "Once the season was cut short in France, I spoke with Rob [Baxter] and he was keen for me to get over here and start to get up to speed with things. I've had a few conversations with the coaches, who have talked me through some of the plays and details online, and that's given me a real insight into it all. Now, I want to put all of that into practice as best I can and get myself up and running with the Chiefs."
Hidalgo-Clyne is no stranger to the Gallagher Premiership having previously spent time on loan at Harlequins - and he says he is relishing the opportunity of getting back amongst English rugby's elite side, especially as there are still nine rounds of the regular season to go.
"I feel a bit bad for some of the players who are leaving or moving on," he said. "All of them have contributed so much to put the team where they are now and in such a good position, so it's a shame they won't get the chance to finish things off. For me, though, I know I'm coming in at a crucial part of the season, so hopefully I can play a small part in what should be an exciting time for the club."
Hidalgo-Clyne is one of a handful of new faces that will be joining the Chiefs alongside fellow Scottish international Jonny Gray, Gloucester's Aaron Hinkley, plus Corey Baldwin from the Scarlets ahead of the 2020/21 season.