Hinkley ready to answer call to action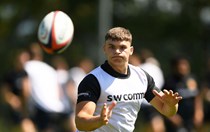 By Mark Stevens
26/7/20
Aaron Hinkley admits he is counting down the days as the Gallagher Premiership prepares to kick back into life next month.
Like rugby players across the country, the Exeter Chiefs newcomer saw on-field action brought to an abrupt halt in mid-March following the outbreak of coronavirus around the world.
Thankfully, the wait for rugby to return is almost over and having swapped life at former club Gloucester for that of the Chiefs during the break, the 21-year-old is looking to make up for lost time.
"I'm literally counting down the days," said Hinkley. "Training so far has been good. Stage One and then parts of Stage Two we were in small groups together, but now we're all in together and we're starting to have proper sessions.
"Each day it's getting closer and we're all looking forward to getting back playing. Right now, I'm focused on learning all the calls, getting the structures in place and getting to know everyone and everything."
Hinkley is one of seven new faces to have joined Rob Baxter's side during the break in play - and he says he is relishing the opportunity he has been given with the Chiefs.
"Everything is different here [compared to Gloucester]," he added. "Obviously, it's different because of Covid, but the running, the training, the structures, the culture, the atmosphere, it's all different. At the moment I'm still a little apprehensive about what is going on because I'm still finding my feet a bit, but it's been a great start so far."
Part of the settling in process has been eased by the fact that he knows a number of the Chiefs squad from playing alongside them in the England Under-20s set-up in recent times.
"I knew a few of the boys already, guys like James Kenny, Alfie Petch, Josh Hodge, Marcus Street and Sam Maunder, we were all in the 20s together," he explained. "Now, though, we're all back in as one big group and it's given me the chance to get to meet the others."
The Chiefs - who currently lead the Premiership by five points from next-best Sale Sharks - are set to resume their top-flight campaign on Saturday, August 15 with the visit of Leicester Tigers to Sandy Park, quickly followed by testing away days against fellow play-off contenders Sale and Bristol Bears in the space of four days.
With such a hectic schedule for all clubs, Hinkley can certainly expect to play some part in Exeter's return to action.
"I'm not expecting to start straight away," he admitted. "There is some great talent here at the club, but with the amount of games coming up, plus the likely knocks and niggles that come from playing and training, I know the Chiefs like to rotate things, so hopefully I will get my chance to impress."