Hogg relishing return to European action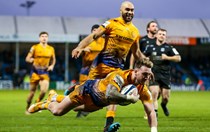 By Mark Stevens
3/4/21
Stuart Hogg says Exeter Chiefs will need to adopt the same 'clinical' approach that drove them to a historic English and European double last season if they are to repeat the same success this term.
Having tackled only former club Glasgow Warriors in the defence of the Heineken Champions Cup so far – that due to the continuing Covid-19 pandemic – the Chiefs resume their European adventure this afternoon against in-form Lyon at Sandy Park (5:30pm).
In what will be an 'all or nothing' Round of 16 encounter, Hogg knows he and his team-mates can ill afford any kind of slip-up against the visiting Frenchmen.
Back-to-back European trophies is the aim for the current champions and the talented Scotsman believes that last year's journey will be invaluable in their efforts to retain the trophy.
"It gave us valuable experience," he said. "A lot of boys hadn't been involved in knockout rugby in Europe. I believe the club had only been to the quarter-finals once beforehand.
"We really have to make the most out of every opportunity we get and just be clinical in everything that we're doing and with the experience we had [last year] with no crowds, it will be very similar in the build-up to this season's final.
"[Winning the Champions Cup again this season] would mean the world to me. The reason that I came down to this club was to better myself on and off the field, and I believe I'm doing that currently.
"It just so happens that I'm involved in the best team in Europe at the minute and we truly believe that we can achieve something even more memorable."
Having kicked off their European title defence with a highly impressive 42-0 victory against Glasgow, the Chiefs were somewhat thrown into disarray the following week when, following an outbreak of Covid-19 within their playing squad, they were forced to concede their second pool fixture to Toulouse.
Seemingly on the back foot in terms of their qualification hopes, the decision by EPCR in January to cancel the two remaining qualifiers and allowing the top eight sides from the two pools to qualify, gifted the Chiefs the route they needed back into the competition.
That route is now clearly defined with today's visit of Lyon and – should they win – home advantage again next week against four-time winners Leinster, whose latest game with RC Toulon was awarded to the Irishman following a Covid outbreak in the French camp.
Hogg – fresh from skippering Scotland to victory over France in the Six Nations Championship last weekend – is prepared for a hard battle in the tournament, but insists that any pressure to succeed in the competition is from the players' own expectations. He was quick to add that diligent preparation has been done so the Chiefs have a comprehensive plan to get past Pierre Mignoni's Lyon.
He said: "The only pressure that is applied to us is through ourselves. We know fine well what we can do. Last year was one thing, the ability to back it up is another.
"We're very much looking forward to the challenge that is coming our way. Look, it is not going to come easy. Every single team is going to be coming for us.
"We need to win at the weekend to give ourselves every opportunity so we're not looking too far ahead. Lyon are a quality side and have some world-class individuals. They're playing really well as a team as well. We've analysed them this week and we know where the strengths are, we know where the opportunities lie, and we're very much excited about the challenge."
Indeed, with Scottish matters put to bed for another year, Hogg says his return back to Devon will allow him to focus on what should be a hugely exciting final few months of the season.
He added: "I think it's absolutely tremendous that Europe is going ahead and we're in a position to progress in this tournament. We've only played one game and some other clubs have played two, we might feel hard done by, but again, we're not in control of anything like that.
"We just have to knuckle down and make sure we get on with our job and give ourselves an opportunity to progress in this tournament. It's Exeter against Lyon and that's all that really matters. We achieved something extra special last year and we want to do the exact same again this year, so it all starts on Saturday evening."