Kvesic already feeling at home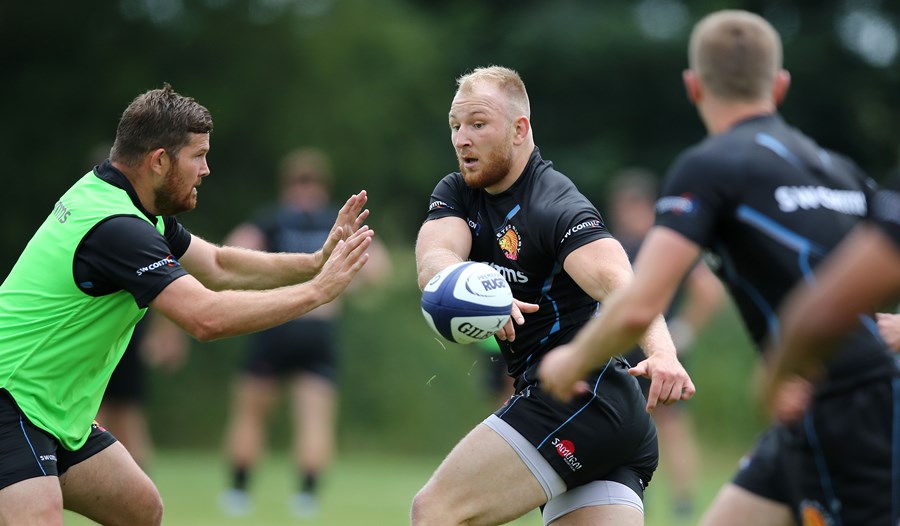 By Mark Stevens
17/7/17

Matt Kvesic maybe one of the new kids on the block at Exeter Chiefs, but already he admits he is starting to feel at home at Sandy Park just a few weeks into the new 2017/18 season.
After four years at Aviva Premiership rivals Gloucester, the 25-year-old forward sealed a summer move to the newly-crowned English champions, agreeing a new three year-deal with Rob Baxter's side.
Although Kvesic already knew a number of his new team-mates through various England representative sides, he admits starting afresh with the Chiefs was somewhat nervy following their heroics of last season.
"I am probably a little bit more nervous than I would have been if the club had not been champions," said Kvesic, who is no stranger to Devon having previously attended Blundell's School in Tiverton.
"The environment has been really good and really positive looking ahead to the new season. They are at a place where they know they have still got lots to work on, but they are the sort of team that want to kick on again and do the double and also do well in Europe, so it is a great environment to be involved in, and I hope I can add as much as possible.
"Exeter are a club I have always admired for a number of years. Since they have come up into the Premiership they have not really looked back, which is testament to the coaches and players at the club, and it is nice for me to be involved in that sort of set-up and get back to developing myself as a player and add to the team, and aim to win the Premiership again this year, and hopefully kick on in Europe as well."
As one of five new recruits brought in by Baxter during the off season, little has changed too much for the Chiefs as they prep themselves not only for the start of their title defence, but also another huge campaign in the European Champions Cup.
The annual pre-season bonding trip to Portugal certainly helped the quintet to settle into the first team squad, after which the training levels have been slowly increased.
A necessary evil for any modern-day professional, Kvesic has enjoyed his opening few weeks at the club, adding: "It has been good and it has been very different. There are a lot of new things for me to take in, learning what is going on at the club, and new calls and that sort of thing. The boys have been great, the coaching has been great, and I have really enjoyed it."
Kvesic knows, however, that the hard work will only intensify, not just in terms of training, but also in his quest to break into the Chiefs match-day squad.
The Exeter back-row is arguably one of the most competitive areas of the squad with Kvesic set to battle for a starting spot alongside the likes of Julian Salvi, Don Armand, Dave Ewers, Sam Simmonds, Kai Horstmann, Thomas Waldrom and fellow newcomer James Freeman.
"I think you can say that of any squad really, but in particular here at Exeter, there is a really, really competitive back row, but that is good," said Kvesic.
"Not only does it give you competition for places, which means players improve a lot more and training is of a lot higher quality, but it is also an area of the team that can get full of injuries, so the boys are going to have the opportunity to play, and there will be a rotation going through the squad, so hopefully we will have a pretty fresh back-row out on the pitch and they will be able to do a good job."
Kvesic is also looking forward to playing Exeter's exciting, attacking brand of rugby that has earned them plaudits across the board.
"I am looking forward to chucking the ball around a bit and hopefully scoring some tries," admitted Kvesic. "I know Tank (Waldrom) scores all of the tries here!
"I have enjoyed watching Exeter play, and now I am just trying to nail the calls myself and learn the systems, but it has been going pretty well so far."
The irony of Exeter's first game of the season being away to his old club Gloucester has not been lost on Kvesic, who struggled for a place in the starting line-up at Kingsholm in the second half of last season.
"You couldn't write that, could you?" he said. "Hopefully I will have a good pre-season and get that under my belt first. That is first and foremost.
"It is always tough coming to a new place, especially when they have won the league as well, so I will make sure I do the best I can in pre-season and then look forward to that Gloucester game. Hopefully I will be involved in some aspect of that, and it would be nice to win away there and start the season well."
Kvesic has failed to make a real impression with current England head coach Eddie Jones since he took over after the 2015 World Cup, but he is hoping his move to Exeter will help him add to his three international caps so far.
"I have been away with some of the lads at Exeter on international tours, and I have known Sladey (Henry Slade) since I was 16 or 17, so I know a lot of the lads pretty well, which has been helpful coming to Exeter, and hopefully I can get back to bettering myself as a player," said Kvesic. "The coaches alluded to that before I signed, that is what they want to do, to develop the players, and hopefully I can do that and potentially push for international honours again."