Land Rover Premiership Cup returns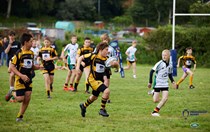 By Mark Stevens
14/9/21
A total of 32 teams from across the region are busy putting the finishing touches to their preparations for the upcoming Exeter Chiefs Land Rover Cup.
Set to take place at Crediton Rugby Club on Sunday, September 19, this Under-11s and Under-12s grassroots rugby festival aims to provide aspiring young players the opportunity to play in a regional event against different teams.
The highly-popular event is a regular fixture on the calendar for the Exeter Chiefs Community team and is designed to provide young players with the chance to play competitive fixtures in a format that is appropriate for their ages and stage of development.
Grassroots rugby continues to be a key area that Land Rover is excited to champion through the festival which to date has helped over one hundred thousand youngsters discover rugby, all within the spirit of rugby's core values of teamwork, respect, enjoyment, discipline and sportsmanship.
Aron Struminski, Community Development Manager for the Chiefs, said: "The Land Rover Premiership Rugby Cup is one of the key events in our calendar each season. Not only does it bring together hundreds of young players from across the region, but it's a festival that brings together all the best parts of rugby.
"We are indebted to the support we receive from Land Rover and Premiership Rugby in helping stage the event – and also to Crediton Rugby Club for allowing us to stage the festival at their club.
"It will brilliant to see so many teams and players in action and we can't wait for the action to start this weekend."