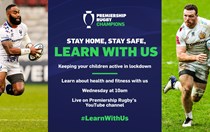 By Mark Stevens
20/1/21

Premiership Rugby today launches an innovative and engaging platform to help parents with home-schooling.
As households across the country continue home-schooling, starting this week Premiership Rugby is launching twice-weekly online lessons to support parents and teachers in keeping children engaged with learning.
From today (Wednesday 20 January), Premiership Rugby Champions Learn with Us lessons will be streamed live, every Wednesday and Friday at 10am.
To see the lessons click here
Designed and delivered by Premiership Rugby Champions teachers, the Live lessons will use rugby to inspire KS2 primary children to learn mathematics and PHSE. Themed Tackling Numeracy and Tackling Health, this week's lessons will specifically look at 2D shapes and healthy eating.
Wayne Morris, Premiership Rugby Community and CSR Director: "We understand the pressure on parents to keep children engaged in learning during this latest lockdown, and we want to help – which is why we are launching these online lessons. Home-schooling can be a struggle and we hope that these new online lessons will help parents engage, educate and entertain their children whilst at home.
"Premiership Rugby is passionate about improving the lives and prospects of children and young people across England, using the power of rugby to inspire the current generation to learn, be active and to help them achieve their potential.
"Every child deserves the right to education, and this has been severely impacted for nearly a year, in so many ways. Whether used by teachers as part of remote lesson plans, or by parents to supplement home-schooling, to help, even in the smallest way, children maintain not only their levels of numeracy but also their health. When things are far from normal, our physical health and mental well being can be neglected. Our Tackling Health lessons will get children moving and thinking about the healthy choices they can make."
Based around sport, the lessons are designed to bring learning to life in a short, fun and interactive way, engaging primary school-age children in both numeracy and health and well-being during this current school term. With the decline in physical activity levels as well as learning in core subjects amongst young children being widely reported, lessons are designed to hopefully help reduce the impact further by making learning engaging and fun for both parents and children alike.
Premiership Rugby Champions has been helping teachers deliver fun sessions both within the classroom and at home through our app and downloadable resources since 2019. The content has been created with the help of expert learning technology company Aspire 2Be, with experienced Premiership Rugby Champions teachers and trainers presenting the lessons online. The lessons will be streamed live twice a week until the February half-term break, with the potential to continue should schools remain closed.
Premiership Rugby Champions Learn with Us lessons will be streamed live, every Wednesday and Friday at 10am, starting today (Wednesday 20 January). These can be accessed if you click this link either to watch live or on-demand. #learnwithus