Match Reaction - Susie Appleby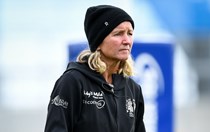 By Harry Scott-Munro
11/10/21
Exeter Chiefs Women's Head Coach Susie Appleby felt her side "didn't really fire a shot," as they suffered a 32-19 reverse against Saracens in the Allianz Premier 15s on Sunday.
An early converted try from Brooke Bradley had given the Chiefs the perfect start, before scores from Chantelle Miell, Poppy Cleall and Hannah Botterman, together with seven points from Zoe Harrison, saw the hosts open up a commanding lead.
Cleall scored her second early in the second half, before the Chiefs hit back with scores from Ebony Jefferies and Flo Robinson, in response to a Zoe Harrison penalty. Ultimately though, it was too little too late for Exeter.
Speaking at full-time, Appleby admitted that she was "really disappointed" with how the game had panned out.
"We went ahead with an early try but then just seemed to switch off a bit," she said. "The messages have been delivered all week about needing to go at them for 80 minutes, but we didn't today. They're a quality side, but we made them look like world champions."
Reflecting on how the game has gone, the head coach felt that individual errors from her own side allowed Saracens to have too much ball.
"I don't have to tell the group that we're disappointed, as you can see it in their faces," she acknowledged. "We didn't become a poor team overnight, we just put in a poor performance today."
Even in defeat, there were still flashes of brilliance from the Chiefs, with three well-taken tries. Appleby admitted that there were pleasing elements to the performance, but was frustrated to miss out on a bonus-point away from home.
"There were three really well taken tries, but four gets you the bonus point which is frustrating," continued Appleby. "We left things out there. You can't go in fits and starts in this game, you have to go at it for 80 minutes, which we didn't do today."
The fixture also saw a debut for new signing Zintle Mphupa with Appleby expressing her excitement at what she and new signing Chloe Rollie will bring to the side.
"Zintle is going to be class for us, as will Chloe Rollie. Daisy French came off the bench as well and did really well. There are positives but there is still a disappointment with our desire to impose ourselves."
With the league now taking a six-week break due to international and Premiership Cup fixtures, Appleby is hoping that those matches can being a new dimension to her side, before league formalities resume.
"We've got a lot of water under the bridge until our next match and lots of players going off on international duty which is fantastic, and we really wish them well. We've now got the Premiership Cup as well which is going to be brilliant for others to raise their game and bring their skills to the fore."
Even in defeat, Appleby was still bullish about what her side could achieve this season, challenging her players to dictate what they can improve, moving into the next block of fixtures.
"The main thing is that we now make a decision to be better for those matches that take us into Christmas. We're going to be fighting here."