Match Report: Exeter Chiefs 38 Cornish Pirates 13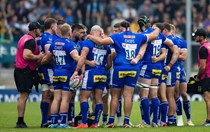 By Leon Rastall
16/09/23
In what was a drizzly Saturday at Sandy Park, the rugby on display proved far from dull as the Chiefs battled hard against an unrelenting Pirates side to come out on top.
The travelling side set the tone within the opening six minutes after Ruaridh Dawson intercepted a switch attempt from the Chiefs, picking the ball from his opposite number, Tom Cairns, before taking it all the way from 40 metres out. Iwan Jenkins was then narrowly denied by the post with his conversion attempt.
The Chiefs quickly bounced back a couple of phases later with a perfectly weighted ball over the top from Ollie Devoto to set up Josh Hodge running through the gap to collect. A nice string of passes from Hodge to Vintcent and then Tom Wyatt who gets it over the line and completes the well-worked team play. Will Haydon-Wood converts with a striking kick from just a couple metres inside the left touchline.
It is rapidly becoming clear that the attacking kick is a weapon Chiefs can capitalise on this season after deploying it to wicked effect in both rounds of the Premiership Rugby Cup.
With the leaders of the game now reversed and the scoreboard at 7 - 5, Chiefs began to find their feet, gaining confidence by the minute.
Out of the blue, Rusi Tuima explodes through the line! Gaining distance and momentum by the second, the huge second row was proving unstoppable as he weaved his way through a scrambled Pirates defence for 60 metres, breaking three or four tackles on his way before being brought down to ground.
It wasn't long before Exeter capitalised on the ground made by Tuima and dotted down for their second. The move began with yet another well-weighted attacking chip, but this time from Dan Frost for Vintcent to chase towards the corner and subsequently claim. Haydon-Wood takes his second conversion attempt just wide, leaving the score at 12 – 5 to the Chiefs.
However, the neighbours soon found themselves kicking at the posts again after Chiefs get caught offside and Pirates point to the posts. Jenkins steps up to take the central penalty kick and secures the three points to close the gap.
Shortly after, Pirates found themselves in front after taking advantage of a loose ball in scrappy style with winger Will Trewin managing to hack the ball over the line and claim. Jenkins misses his second attempt to convert despite close proximity to the posts.
Rob Baxter has made mention of wanting to profit from strong scrum functionality, and it was evident as the Pirates late first-half scrum gets overpowered and the Chiefs send them back 10 metres.
Half-Time Exeter Chiefs 12 - 13 Cornish Pirates.
After a strong start from the Chiefs, our Cornish neighbours fought their way through and came out on top after a tough & physical first half. But, with only one point separating the two sides, it was still all to play for in the second half!
The second half began and Chiefs wasted no time in getting the scoring going as Haydon-Wood launches a cross-field kick out wide for Ben Hammersley, who was left wide open, allowing him to head back in towards the posts before touching it down. Haydon-Wood then adds to his contribution by converting to take the score to 19 - 13.
With Chiefs beginning to take control of the game once again, problems for Pirates began to rise after losing one player to a yellow card and now another to injury forcing them to look to the bench.
Exeter used this to their advantage and the score line soon extended further with yet another dominant scrum, forcing the Pirates back, and allowing Vintcent to break through and take the ball from beneath them, diving over for his second of the game. Converted by Haydon-Wood to stretch the lead to 13 points.
With the lead beginning to grow, Chiefs look to the bench to bring on some fresh legs with four replacements being made.
It wasn't long until Chiefs found themselves on the front foot once again, and as the forwards chipped away at Pirates' back line, it eventually gave way and space was created for the ball to be spread wide to Hodge. Hodge uses his pace to his advantage and makes up some ground fast before passing to his winger Wyatt who finished with some clever footwork to find the line. Harvey Skinner then makes instant impact on the game, converting to give the Chiefs a 20-point lead.
The game then slowed in attacking tempo from both sides, as a number of kicks through from Exeter came to nothing despite relentless chasing. But Hodge seemed to never give up and found space once again to inject his pace into. Racing down the left-hand wing, he proved too quick to catch, going the full distance from 35 metres out to slide over the line for Chiefs' sixth of the day. Skinner was then denied his final conversion attempt by the post to leave the score standing at 38 - 13.
Full-Time Exeter Chiefs 38 - 13 Cornish Pirates.
Exeter Chiefs: J Hodge; B Hammersley, T Hendrickson, O Devoto (J Hawkins 58), T Wyatt; W Haydon-Wood (H Skinner 58), T Cairns (N Armstrong 58); S Sio (B Keast 52), D Frost (J Yeandle 28), E Painter (J Iosefa-Scott 52), R Tuima (J Dunne 64), L Pearson, E Roots ©, J Vermeulen, R Vintcent (A Davis 58).
Tries: Wyatt (2), Vintcent (2), Hammersley, Hodge.
Cons: Haydon-Wood (12, 43, 54) Skinner (64)
Cornish Pirates: K Moyle; W Trewin (O Burrows 41-45 (M Walker 46-49)), I Evans (D John 50), J Elderkin, A Relton; I Jenkins (T Pittman 63), R Dawson (A Schwarz 59), L Zigiriadis (J Andrew 40), M Nelson (O Burrows 46), M Walker (F Richardson 40) W Trewin 50), W Britton (J King 40), S Barker, A Everett, W Gibson, J Stevens © (H Dugmore 59).
Tries: Dawson (6) Trewin (23)
Pen: Jenkins (22)
Yellow Card: Nelson (40)
Referee: Simon Harding
Attendance: 8072