Match Report: Warriors Women 7 Exeter Chiefs 39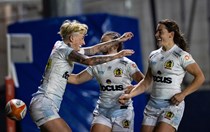 After a turbulent journey to Sixways, the Chiefs Women went to work with a pushed-back kick-off to 8:00pm as opposed to the scheduled 7:30. In the reverse fixture last season Chiefs fell to a 21-23 defeat at Sandy Park. With comprehensive victories following in the league, the challenge was set to put last year's result right. With many new faces and experienced heads on board to complement our double-winning squad, Sixways was the stage to show all that has been worked on over a long summer break.
With a performance of composure and flare, Chiefs got off the mark quickly with an expertly crafted try from Sophie Langford who read a perfectly timed ball on the inside to crash over from an excellent driving maul. Chiefs did not stop there, the driving maul proving a devastating weapon they went on the attack. With a strong ten-metre drive, Captain Poppy Leitch read the play perfectly to add to the Chiefs' tally.
The first quarter finished with Chiefs going down to a converted try by the hosts. With Sarah Parry finding a good line she went over for Warriors cutting the Chiefs' lead to just five points. In perfectly timed fashion Chiefs grew into the second quarter building strong territory and quick phases giving the backs the opportunity to expand play. On 25 minutes they made use of this space when a quick-footed Jodie Ounsley on the left-hand side beat her defender with an exquisite step, met the contact and touched down to take the Chiefs lead to ten points.
The Chiefs set piece was proving strong with scrums and driving mauls off the lineout building a lot of momentum going into the final ten minutes of the half. From a penalty that was opted to go to touch Cliodhna Moloney reclaimed her arrow-like delivery at the base of the maul and with a perfect drive Moloney ensured Chiefs lead went beyond two converted tries.
HALF TIME: WARRIORS WOMEN 7-22 EXETER CHIEFS WOMEN
Going in at the break with a buffer of two converted scores Appleby and assistant Steve Salvin regrouped the players and sent them out to express themselves and that they did. Chiefs started the second half brightly with territory and momentum, unrelenting phases got the players close and deep into the opposition 22. Eight minutes in and from another driving maul Chiefs used their power to crash over through Lizzie Hanlon. Just short of the final quarter starting, changes saw Abby Middlebrooke and Cliodhna Moloney replaced with Clara Nielson and Panashe Muzambe after excellent shifts in the front row and proving vital parts of an engine room delivering the lion's share of the tries. This was quickly followed by Kate Smith replacing Nichola Fryday and debutant replacing debutant in Olivia Ortiz leaving the field after a composed performance at scrum half for Eloise Hayward on her return from Rugby League.
Now with the bit firmly between their teeth, the final quarter was a mixed bout of play with Warriors aiming to overturn the three-score lead Chiefs had. With breathing space Chiefs threw caution to the wind, and took advantage again of their weapon in the air via the lineout. This proved too much for Warriors where a perfectly looped ball found Eilidh Sinclair on the right wing who turned on the afterburners to beat her defender and touch down. Bringing Chiefs four scores clear with fifteen minutes to go the attrition was showing and the Chiefs' intent not wavering. Phase after phase they put the pressure on Warriors. With nine minutes from time after a nasty-looking knock to Ounsley, we saw the reintroduction of Langford.
With one final throw of the dice in the final play Sammie Harris was found on an emphatic line, she pinned her ears back, blasted herself into the 22, and touched down on the right side for Chiefs. A beautifully worked try which truly highlighted Chiefs' strengths on the night from using the width, but also their devastating set pieces which caused Warriors problems. With the sound of the referee's whistle Chiefs had secured their first win of the season with a bonus point win to take back to Sandy Park.
FULL TIME: WARRIORS WOMEN 7-39 EXETER CHIEFS WOMEN
Warriors Women: C McNaney; E Clarke (C McLaren 50), S Parry (E Clarke 61), Al Kershaw, V Laflin, E Green (I McGuire-Evans 69), V Sellors (E England 40); A Gondwe, C Tremelling, S Evans, A Buckland-Hurry (c) E Pohjanheimo (R Sinclair 58), L Calladine (E Bonnett 66), S Moreira (L Terry 72), C Brincat.
Replacements (not used): S Benavent, F Long
Tries: S Parry
Conversions: E Green
Exeter Chiefs: M Doidge (vc); E Sinclair, F Powdrell, S Langford (D Preece 67), J Ounsley (S Langford 72), C Dadds (S Harris 58), O Ortiz (E Hayward 56); A Middlebrooke (P Muzambe 51), C Moloney (C Nielson 51), E Hanlon (H Sams 60), N Fryday (K Smith 56), H Millar-Mills, E Jefferies, P Leitch (c), N Orchard (J Plant 60).
Replacements (not used): N/A
Tries: S Langford (8), P Leitch, J Ounsley (25), C Moloney (34), E Hanlon (46), E Sinclair (60), S Harris (79)
Conversions: C Dadds (9), F Powdrell (47)