More delight for Baxter on the road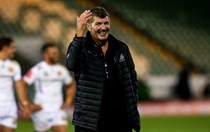 By Mark Stevens
5/9/20
Exeter Chiefs marked their 10-year anniversary in the Gallagher Premiership by increasing their lead at the top of the table to 15 points with a hard-fought win away to Northampton Saints.
A decade on from their maiden triumph against Gloucester, Rob Baxter's side were smiling once more as tries from Sean Lonsdale, Jannes Kirsten and Tom O'Flaherty helped secured win number five since restart at Franklin's Gardens.
Long-serving playmaker Gareth Steenson, the match-winner from that first-ever game, kicked the remainder of the points for the visitors, who had to dig deep in the second half after the Saints had hit back with 19 unanswered points, courtesy of tries by David Ribbans (2) and Henry Taylor, plus two conversions from fly-half Dan Biggar.
Again, it was a victory to savour for the Chiefs' Director of Rugby, who had utilised his squad to the full since league matters resumed last month.
"What we're getting at the moment is a lot of buy-in from the players," said Baxter. "We ask them to work exceptionally hard because they will see the rewards.Sometimes at half-time as a coach you ask for a little bit more and we've got used to not feeling too guilty for asking for it.
"The fact we were still in the game later on was because of some of the hard work we did in the first half.Northampton scored but we made them work so hard for it and when a battery wears down it's hard to recharge. We just had enough freshness at the end of the game to create enough pressure and see it through.
"A lot of the players on the field had less game time than some of the Northampton players and you do wonder when that will take effect.But actually we started to pull ourselves together when we went behind and started to refocus on the basics of the catching and handling and maintaining possession.
"We managed to hold our nerve when we were points down and didn't do things rashly.Ultimately, it was a test of holding our never under a bit of fatigue and it means we've come through again."
While the Saints - who have now lost six successive home games are languishing in sixth - the Chiefs are running away with it at the top.
Baxter added: "It was a very good win.Sometimes I don't know where they dig it up from because anyone who watched the game would have seen that it ebbed and flowed and the momentum shifted.
"We started very well, then Northampton dominated territory and possession for a while and slowly worked their way back into the game at the end of the first half.
"It looked like they'd ripped the momentum away from us at the start of the second half, but then we just showed that dogged determination and doing the right things.We kept exiting, kept trying to play the way we play, and it's funny how getting that kind of belief to stick at it and stick at it gives you that five or 10 minutes you need to create something.
"It's what happened for us and I've got to credit the whole team because they worked exceptionally hard."
Baxter also had praise for his bench, which included Premiership debutants Tom Price and Alfie Petch, the latter of whom helped form a young front-row trio for the final stages alongside Billy Keast and Jack Innard.
"I've also got to credit what was a pretty young and inexperienced bench to come on and do a job for us.Tom Price was making his debut and he helped us around the park, then we chucked a young front row on there and it was almost seamless.They did a fantastic job for us."
Next up for the Chiefs is Wednesday's visit of Gloucester to Sandy Park, after which they travel to Saracens, before tackling the Saints for a third time this season in the Heineken Champions Cup quarter-final on September 20.
Baxter, though, has warned his players not to get complacent ahead of that clash, insisting this latest result will have little bearing on their crunch European showdown.
He said: "History shows you over and over again that there's no harder combination of games to win than close games when you've gone away from home, you've knocked off what everyone would deem as the tough one away and then you have that little bit of overconfidence and all of a sudden things slip.
"You see it all the time in European double-headers when apparently the hard work is done in the away leg and then it flips back on you.
"We've got to make sure we don't let that seep into the group, but on the whole you can normally do that with quality of training.There are a lot of guys who know they have to perform otherwise they're going to lose their place just when they don't want to."