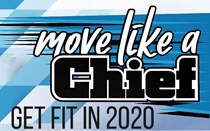 Do you want to be more active?
Well, look no further.
Move Like A Chief is a 10-week, activity-based programme funded by Advanced Security Alarm Protection, which allows participants the opportunity to be more active, as well as enjoying teamwork activities.
Sessions will be on a Monday night, starting on March 2, and will be available for 20 men and 20 women on a first come, first serve basis.
The Community Chiefs are very lucky to have some great businesses already on board for the start of Move Like A Chief. Venues include Haven Banks, PureGym, Topsham RFC, Clip N Climb, Yoga with The Whitewater Clinic, plus Cranbrook School.
If you are interested in the programme, then please email: richardbright@exeterchiefs.co.uk
If you are one of the 40 selected, then Richard will reply to your email with more information.