Red Roses ease to victory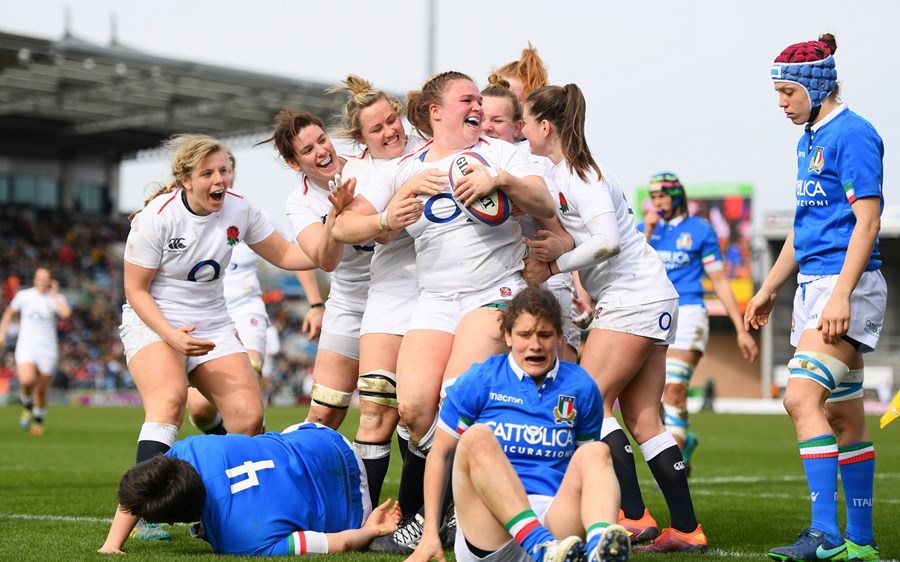 England Women 55

Italy Women 0
Mike Smith at Sandy Park
9/3/19
England Women are now just one win away from the Grand Slam in this season's Six Nations Championship after they trounced previously unbeaten Italy at Sandy Park.
Having beaten Ireland, France and Wales with bonus point victories in the opening three rounds, Italy felt the full force of the Red Roses in front of a record-breaking crowd in Exeter.
The Italians held their own early on, pinning England back within their own half during the opening exchanges. However, the home side slowly started to find their rhythm and they broke the deadlock when a strong carry from prop Sarah Bern set-up winger Jess Breach to dive over in the corner for the opening try, which was converted by Zoe Harrison.
England doubled their lead not only long after when hooker Lark Davies went over from a line-out move and by half-time they had built up a 21-0 lead when a break from Marlie Packer saw her set-up captain Sarah Hunter to score from a pick-and-go move.
The bonus-point was secured a minute into the second half as Bern burst down the blindside off a set piece line-out move and broke through three tackles to cross. Then Hunter's break from the back of the scrum set up Packer for an easy score and it was another superbly-controlled driving maul that saw Vickii Cornborough go over.
The ball was spun to the right wing for England's seventh as Breach showed smart footwork and strength to beat the defender - her seventh try of the tournament.
Another well-worked rolling maul saw lock Abbie Scott at the back of the drive to cross, and with time dead Vicky Fleetwood rounded off England's phase play by diving under the posts for the ninth and final score.
At the home of Gallagher Premiership side Exeter Chiefs, England knew before kick-off they had already achieved a record number of tickets sold for a Red Roses game outside of a World Cup match.
After a close-to-sell-out 4,674 fans turned out at Doncaster's Castle Park for the victory over France in round two, this was another impressive attendance for those who wanted to come and watch the Red Roses in action with 10,545 turning up.
The record attendance for a women's match in England is the 13,253 that were in attendance for the 2010 Women's Rugby World Cup final between England and New Zealand at Twickenham Stoop.
"We couldn't ask for better support today," said Hunter. "We've been working a lot on how we wanted to turn up today and really put on a performance. We didn't have it all our own way today; Italy are a very good side and they showed it today, they kept coming at us.
"The Six Nations is a journey and we have put ourselves in with a good shot next weekend going for the Grand Slam and we are proud of that."