Rollie starts for Scots against Italy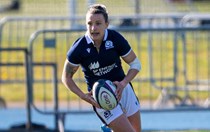 By Harry Scott-Munro
13/9/21
Exeter Chiefs summer signing Chloe Rollie will earn her 40th cap for her country on Monday, as she lines up at fullback for Scotland in their opening World Cup European Qualifier against Italy in Parma (2pm.)
Head Coach Bryon Easson has named an experienced side, boasting 12 players that currently play in the Allianz Premier 15s. Rachel Malcolm will captain the side from flanker, with Susie Appleby's new recruit Rollie, joined in the back three by the experienced pair of Rhona Lloyd and Megan Gaffney.
Ahead of what will be a challenging match with qualifying tournament hosts Italy, Easson, himself a former Exeter Chiefs player, highlighted the commitment of his players, as they hunt down a prized place in New Zealand.
"The squad have worked tirelessly over the past year to get to this point, but we know that this group of players will fully embrace the challenge ahead and will give it everything on the pitch."
Easson has been "encouraged" by what he has seen in the build-up from his side but was under no illusions of the challenge that Italy will pose his side, having beaten the Scots 41-20 in their most recent encounter in April.
"I've been really encouraged by the level of work and detail that the full squad has produced in camp this week and the focus now is to keep believing in ourselves. We know that the game against Italy is of vital importance to qualification chances and we'll be looking to deliver a full 80-minute performance tomorrow."
All matches taking place in the qualifying tournament will be streamed via the World Rugby YouTube channel and on their social media pages.
SCOTLAND WOMEN'S SIDE TO FACE ITALY WOMEN
15. Chloe Rollie (Exeter Chiefs) – 40 caps
14. Rhona Lloyd (Les Lionness Du Stade Bordelais) – 28 caps
13. Hannah Smith (Watsonians) – 26 caps
12. Lisa Thomson (Sale Sharks) – 35 caps
11. Megan Gaffney (Heriot's) – 17 caps
10. Helen Nelson (Loughborough Lightning) – 32 caps
9. Jenny Maxwell (Loughborough Lightning) – 32 caps
1. Leah Bartlett (Loughborough Lightning) – 7 caps
2. Lana Skeldon (Unattached) – 43 caps
3. Christine Belisle (Cartha Queens Park) – 7 caps
4. Emma Wassell (Loughborough Lightning) – 47 caps
5. Sarah Bonar (Harlequins) – 22 caps
6. Rachel Malcolm (Loughborough Lightning, capt) – 19 caps
7. Louise McMillan (Hillhead Jordanhill) – 26 caps
8. Jade Konkel (Harlequins) – 44 caps
16. Molly Wright (Watsonians) – 5 caps
17. Lisa Cockburn (Darlington Mowden Park) – 18 caps
18. Katie Dougan (Hillhead Jordanhill) – 13 caps
19. Rachel McLachlan (Sale Sharks) – 19 caps
20. Evie Gallagher (Stirling County) – 3 caps
21. Mairi McDonald (Hillhead Jordanhill) – 6 caps
22. Sarah Law (Sale Sharks) – 43 caps
23. Liz Musgrove (Unattached) – 10 caps