Salvin joins Women's coaching team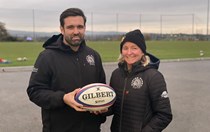 By Mark Stevens
24/11/21
New Exeter Chiefs Women's assistant coach Steve Salvin says he's 'hugely excited' by the prospect of his new role at Sandy Park.
The experienced coach, who has previously worked at Rotherham Titans, Leeds Carnegie Academy and as Performance Pathway Manager at Worcester Warriors Academy, takes on the role from former Chiefs captain Tom Hayes, who has had to return to Ireland for family reasons.
And his arrival is a major boost for women's head coach, Susie Appleby, who is busy preparing her side for the return to Allianz Premier 15s action this Saturday at home to Loughborough Lightning (3pm).
"I'm hugely excited," said the 38-year-old. "The opportunity has come a bit out of the blue, but any opportunity to come here and be part of what is being built is something I couldn't really turn down. You can see from the investment which is being put in, not just here at the Chiefs, but also in the women's game nationally, means it's a double bonus for me."
Having watched the women train for the first time on Tuesday, Salvin says he is looking forward to learning more about the coaching methods of the Chiefs, whilst at the same time adding a bit of his own imprint onto proceedings.
"It's important you are authentic and you get your own points across but, equally, I know there is a real identity here and having had chats with Susie and with Rob Hunter already, you can see there is a lot of cross-over in what we do.
"Today, I watched the men's team train this morning and then this afternoon there were three of the men's senior coaches up here training with the women. That in itself makes it all special and inclusive and I can why the club is having the success it is when you have everyone pulling in the same direction like it does."
Although this will be Salvin's first introduction into the women's game, he has already been hard at work and watched his new players in action in their recent Allianz Cup victory over Worcester Warriors.
"I came to the Worcester game to get a sense of things," he said. "I know a few of the international players were away that day, but I saw a lot of positives in what the team did – and now with those international back at the club, I'm looking forward to seeing what they can bring to the team.
"As I said, the ambition is here and that's the critical part. Getting that ambition is essentially the foundation from where you look to build. Last season was obviously the starting of it all, but now it's a case of building on that and really developing something special here.
"We've got players from all over the world, but we've also got a lot of good, young English talent as well. I think there are a few in the Under-20s squad and a few more pushing around the full senior squad, so if I can help play and part in their development, then that will be fantastic."
Appleby herself is delighted to welcome Salvin into her coaching set-up and says she is looking forward to what he can bring to the mix alongside her and fellow coach Duncan McNaughton.
"Steve comes with a massive amount of experience, especially in the Championship and at different age groups," she said. "He openly says he's never worked with women, but he's excited about getting stuck in and really knows his stuff.
"He came to the Worcester game, got a feel for things, and he's at a position in his sporting life where he's confident to come here and give it a real go.
"Although he's only been here a short while he's already said a few things and he and Rob Hunter are in agreement, which is fantastic. He will have his own way about things, but equally we have our own principles, so I think it will be a great blend."