Sandy Park Hotel's vision of the future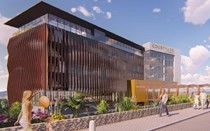 By Mark Stevens
3/9/18
This is the exciting vision of the future for the new £25 million hotel at Sandy Park.
The state-of-the-art hotel is the next stage in the development plans of Exeter's award-winning Sandy Park complex, which is home to Gallagher Premiership Rugby club Exeter Chiefs, and the region's premier Conference & Banqueting venue.
In addition to housing 250 bedrooms, the eight-storey hotel situated off Old Rydon Lane will provide leisure facilities on the ground floor, as well as a rooftop cocktail bar and restaurant that boasts picturesque views along the River Exe Estuary.
Coming under the worldwide Courtyard by Marriott brand, the four-star facility will also boast an impressive glazed bridge link to Sandy Park, as well as an extensive reception area, open plan bar, coffee bar and lounge.
The rooftop restaurant is described as 'one of its kind for the area' and will provide a 'unique dining experience for guests and visitors'. The open plan area, with a formal restaurant in one and a bar/lounge area with an outdoor roof terrace in the other wing.
The application to planners also documents that the basement of the hotel would provide spa and fitness facilities, including a sauna, steam room and gymnasium. As well as meeting rooms and a 24-hour market place for drinks and snacks.
Exeter Chiefs chairman Tony Rowe OBE said: "For a number of years Exeter has had a need for a good four-star hotel within the city. We have got some very nice hotels and some budget hotels, but there's been a growing need for something like the Sandy Park hotel.
"With the growing success of Sandy Park, it became apparaent that a facility of this type was needed to run alongside the business. We feel the new hotel will not only enhance the amenities here at Sandy Park, but within the city of Exeter as a whole.
"In terms of rugby at Sandy Park, it brings in tens of thousands of people on 16 to 18 days of the year. However, the other side of Sandy Park is that we are open all those other days of the year for a great deal more such as conferences, trade shows, exhibitions and dinners.
"I've no doubt it will bring more people in to visit, not just on match days, but for all those other events at Sandy Park and for those simply visiting the area."
As well as the build of the hotel, the Rugby Club have also paid £40,000 for a Road Traffic Order to ensure that local residents will have minimal interference from anyone visiting.
Detailed planning permission on the hotel has now been approved and work is set to start later this year. It is expected to take a year to complete.