Sandy Park's South Stand is the Place to Be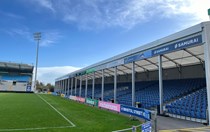 Sandy Park's new south stand delivers an overall improvement to the fan experience at Chiefs' home games.
Structural work was undertaken throughout the off-season to enable us to give our fans a fantastic new vantage point for the 2023/24 Gallagher Premiership season – and what a start it has been as Chiefs currently sit top of the table.
A new and improved frame structure – with permanent cladding to the side and rear elevations – ensures fans are better protected from the elements as we enter the winter months. An increase in roof height also allows for a better viewing experience.
Access is made better as the stand now sits in great alignment with facilities to the rear whilst improvements to the entry and exit points have improved stadium safety for our supporters.
The gameday experience is then heightened for our south stand regulars with enhancements made to the public address and lighting systems as well as an increase in seat width and row depth to improve the overall comfort level of the seats.
As recently as last weekend, fans in the south stand were treated to an up-close view of Tommy Wyatt sniping over for the Chiefs' third try against Bristol Bears or even Josh Iosefa-Scott barrelling his way over for a score from a tap-and-go a couple of metres out for the try bonus point.