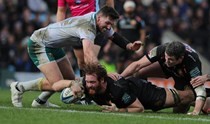 By Mark Stevens
16/6/20
With the 2019/20 season having been brought to an abrupt halt following the Coronavirus outbreak, on-field rugby life at Sandy Park ceased to exist at a time when those associated with Exeter Chiefs were ready to step things up for the business end of the campaign.
As it was, Director of Rugby, Rob Baxter, was busy working hard behind the scenes, agreeing terms on contracts for a number of his first team stars.
Scrum-half Jack Maunder and back-row forward Dave Ewers were among the first to commit their long-term futures to the Devon club, quickly followed by South African powerhouse Jannes Kirsten, winger Tom O'Flaherty and Tongan international Elvis Taione.
All five have been influential members of the Chiefs make-up in recent times, so it was little wonder that Baxter was delighted to retain the services of the quintet moving forward.
It was not just on the men's side where significant progress was being made either. The start of the month also saw confirmation that the newly-formed Exeter Chiefs women's side had been successful in their application to join the Premier 15s competition from the 2020/21 season.
It was a moment to savour for Exeter Rugby Club chief executive, Tony Rowe OBE, who said: "This is the news we have been waiting for. After months and months of hard work behind the scenes, this is the real reward.
"I wanted to start a women's side many years ago. We looked at the idea when the first applications for the Tyrrells Premier 15s division were out, but we weren't in a position to go forward at that time. This time, though, we weren't going to miss the boat and it's fantastic that we're now very much part and parcel of things.
"Having both coaches [Susie Appleby and Amy Garnett] come on board earlier this year has helped massively and their work, together with many others, has paid off significantly. But what today's announcement confirms is the missing piece of the jigsaw that we needed.
Rowe added: "Today represents another huge milestone in the history of our great club and it further enhances our aim of creating the rugby giant that is Exeter Chiefs Rugby Club.
"Now, Susie and Amy can really start to kick on and get on board all those players they have been chatting to and interviewing over the last few months all signed up and ready for next season.
"As I've said previously, these are hugely exciting times and the fact that we now have Premiership teams at both men's and women's level is fantastic not only for the club, but for the city, and the region as a whole."
Just like Rowe, women's head coach Appleby was overjoyed with the decision, but acknowledged the hard work would start immediately in trying to get the Chiefs competitive.
"We planned for the last six months really carefully to deliver to the RFU how exactly we can grow the game in the south-west, because that's effectively what it's about," said Appleby. "It's about producing players for the top international level but equally as importantly, developing the game down in Devon and Cornwall.
"Fortunately, the RFU agree with how we're going to do it, believe that we can do it and that's what we're going to do.
"Yes, there is real excitement about everything, but the reality is also that now we have to move fast. "The hard work starts now because we need to secure a competitive squad. We've had conversations with people who have approached us, and we've approached others as well. Until this week, we couldn't really move those conversations on, but now we can and it's going to be a busy period for us.
"There is lots to be done, we know that, but we have taken some steps already and now, when the opportunity allows us, we will effectively kick into overdrive. It's a new experience for all of us, including myself. I've never been in a situation like this before at any other clubs, but this is what makes it exciting."
For both the men's and women's teams, however, it would be a waiting game to see when they would return to Sandy Park for training and the prospect of games.
At the club itself, Sandy Park was doing it's best to help combat the spread of the virus by hosting a NHS testing centre in the grounds of the bottom car park.
The facility is vital in helping staff who are self-isolating or who have had Covid symptoms to return to work as quickly as possible.Devon Freewheeler volunteers will swab people in the safety of their own cars, and then transporting the samples to the testing laboratories at the Royal Devon and Exeter Hospital.