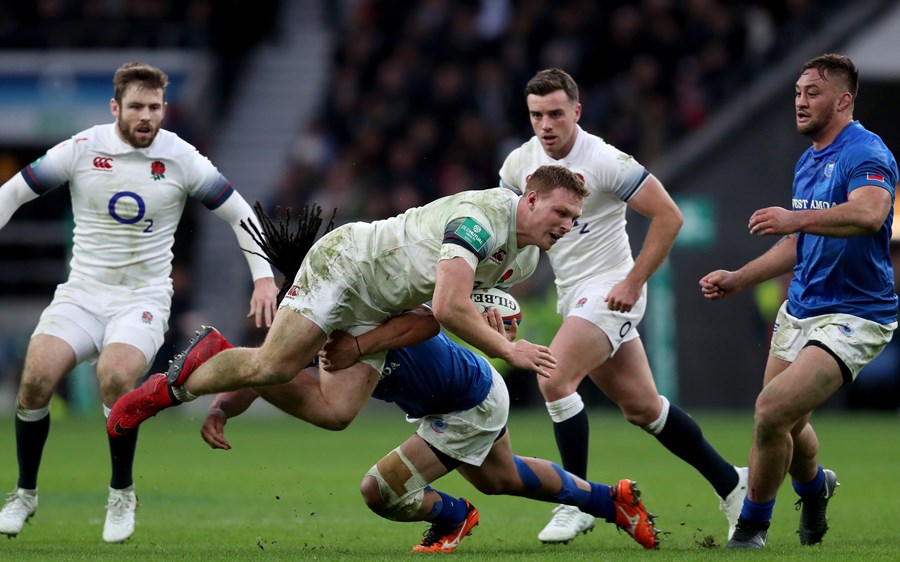 By Mark Stevens
2/12/17
Christmas may have come early for Sam Simmonds with the reward of three England caps, but the Exeter Chiefs forward is keen for even more acknowledgement from Eddie Jones in 2018.
Thrust into the international picture over the past month, the 23-year-old showed no sign of stage fright at Twickenham, producing three impressive displays for the Red Rose country.
Understandably, Simmonds enjoyed every second of his exposure against the likes of Argentina, Australia and Samoa and now he wants more of the same as he looks to build on what has been a stellar campaign to date.
"The last few weeks have been very special, not just for me and my family, but also my friends, a lot of whom have come up from Teignmouth to support me at Twickenham," he said. "It's not just been a whirlwind four weeks, but it's been a huge six to nine months in my career.
"Some of the things I've achieved, it's been unbelievable. But, I just have to take each week as it comes. That's how I've done it during that time and that's how I've got to continue doing it."
Pulling on the England jersey, though, has given the all-action youngster a taste of life at the very top end. It's little wonder that he wants more of the same moving forward.
"Of course you want more," he added. "However, that only comes from playing well with your club. That's how I got my opportunity in the first place. As much as I've enjoyed the last few weeks, now I've got to leave it behind and just focus all my efforts on playing well with Exeter. If I can do that, then hopefully I will get another opportunity. in the future."
One man sure to be plotting the progress of Simmonds over the coming weeks will be Jones himself.
The Chiefs star - who has spent the majority of his career working under the tutelage of Rob Baxter and his team of coaches at Sandy Park - says it was an enlightening experience to work under the Australian.
"All I've really known is working under Rob and the coaches here, they've made me the player I am now," continued Simmonds, the older brother of Exeter fly-half Joe. "It was good, though, to get a different form of coaching, not just from Eddie, but from the likes of Steve Borthwick and Paul Gustard as well.
"It was tough coaching up there, but it has to be if you want to be the best team in the world. You only have to see Eddie's record since he took over - he wants to get all he can out of the team, and he's always demanding the complete performance."
Today, though, England thoughts will be put on the back burner for Simmonds, who returns to domestic action with the Chiefs in their sell-out Westcountry derby clash with Bath at Sandy Park (2pm).
In his absence, the Chiefs have picked up notable league wins over Harlequins and Saracens in the past fortnight, results which have not only put the defending champions top of the pile, but also five points clear of their nearest rivals at the summit after nine rounds of battle.
Simmonds admits he is relishing the derby clash, adding: "The boys have picked up some good wins, especially up at Saracens last week. Bath this weekend, though, will be another huge game for us. Over the last four or five years they've been the team that we've tended to struggle against and not put our real game onto them,
"Because it's a local derby, it's a sell-out as well, there is a lot of excitement about the place. We know what we have to do to try and beat them, so now we've got to go out there and do it in what should be a massive game."