Simmo on road to recovery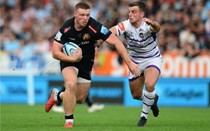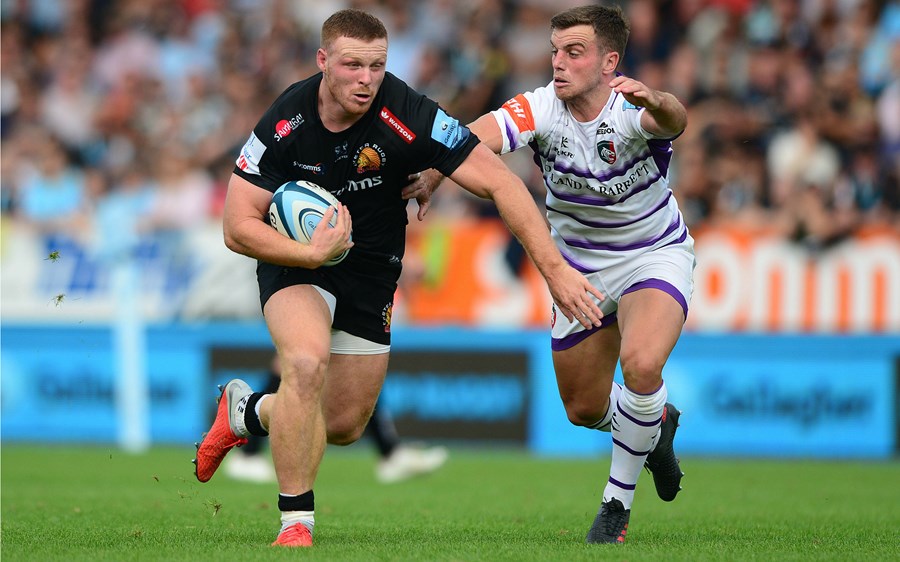 By Mark Stevens
15/2/19
Being separated from the sport you love is never easy – but Sam Simmonds is determined to come back stronger than ever when he returns from his long injury layoff.
The Exeter Chiefs forward ruptured his anterior cruciate ligament (ACL) in the victory over Worcester Warriors in late September and was expected to be out for six to nine months.
His prognosis appeared more positive after the turn of the year, with Rob Baxter revealing that the 24-year-old was likely to fall into the lower ranges of that estimate.
And while the road to recovery has been long and hard for Simmonds, who hopes to be back before the end of the season, he wants to make the best out of a bad situation.
"I am seeing the light at the end of the tunnel," said Simmonds, when asked about his rehabilitation. "I think it's coming up to four-and-a-half months and it has been tough. Not just watching the boys play every week but being around them and seeing what they're doing – you wish you were out there doing the same. I've worked hard and the physios have pushed me.
"This is probably the hardest I've worked to get where I am now and I still have a couple of months left. Hopefully I'll get some rugby before the end of the season.
"It's a sport I love and I know that to be at the top there are going to be injuries, but Jamie [Fulton] – the head physio – likes to put me through my paces quite a bit.
"I know I'm coming through those days and the weeks are getting shorter and it's something that I need to do to get back, not to full strength but to stronger than I was before. I want to improve on how I played before and my speed and stuff like that. Hopefully then I'll come back more powerful and even quicker than I was before."
Simmonds has not been the only Chiefs' player in "team rehab", though, with the back-rower being joined by a number of his club-mates during the months he has spent on the sidelines.
Peter Laverick has also been out of action, while Stuart Townsend was ruled out for the rest of the season before Christmas with a knee injury sustained in the Heineken Champions Cup.
And Simmonds admits the support of his teammates, along with encouragement from those who have previously suffered ACL injuries, has helped him cope with the rehab process.
"Unless you're in and around it, you don't realise how many boys have suffered ACL injuries," he said. "Dave Dennis has done his three times, Dave Ewers, Alec Hepburn have all had this injury.
"They are all back playing and people are watching them at their best again, so it does give you confidence, it's something positive that you need at times like this. To see players that have gone through what you've done in the past and are excelling now. I take a lot from that and it's good to have those guys around you.
"Peter Laverick is in the same situation, he has had a tough time. He done his ACL, played a lot of rugby and then unfortunately he did it again.
"I look at Peter and think if he can do it then there's no reason I can't. It's always good banter between the squad but you do feel you are missing out on doing what you love.
"Training every day and playing is what we want to be doing so we're pushing towards that and we have a good group ethos that pushes us to where we want to be."
Exeter return to Gallagher Premiership Rugby action tonight against Gloucester at Kingsholm – the fourth meeting between the two this season.
The Devon side enter the business end of the campaign top of the table and Simmonds is desperate to get back on the pitch to help his side reclaim the title they lost last season.
"The boys are setting it up well," said Simmonds. "We like to know that once Christmas goes, the season really kicks on and the games come as quick as they can. There are only about ten games left, not including the semi-finals and final, so there's not that many games left but hopefully I can get back in good time. If I can get back training before the end of the season and hopefully look towards matches as if I can add here and there then that would be great, but they are doing a great job anyway."