Skinner relishing returns of fans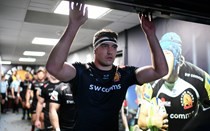 By Mark Stevens
30/5/21
Exeter's Sam Skinner says he can't wait to hear the famous Sandy Park roar when he runs out for the Chiefs against visiting Newcastle Falcons today.
Not since December have fans been allowed back for games, but with the restrictions easing by the month, the Scottish international says the thought of running out in front of friends and family once again is something he is relishing.
"It's great that we'll have fans back in this weekend," said Skinner. "It's not been the same, it's been weird, but things do appear to be moving in a positive direction within the world right now."
Having got used to running out into the eerily quiet surroundings of grounds up and down the country, the thought of experiencing the match-day buzz – albeit with a reduced crowd of almost 4,000 people – will merely add to what promises to be an exciting conclusion to this season's Gallagher Premiership campaign.
"I've kind of got used to not having fans about," added Skinner. "At first it was weird, but as time has gone on, it just becomes the norm."
Asked just what it has been like, the 26-year-old gives his own unique take on the whole experience.
"It's hard to put into words, but I guess the best way to describe it is like…..going out for a night and not drinking. All the motivation and energy you have to find from within.
"Normally, 45 minutes out from kick-off you have the crowd to feed off, but that's not been there. It's like they inject a drug into you that helps get you to where you need to be. With no crowd, the real challenge has been finding that drive each week because you know the fans are there supporting you, but because you can't see or hear them, it's up to you to show how much you care about your performance."
Well, whatever the Chiefs have been doing since the pandemic first struck to address that very matter, it has clearly been working with Skinner very much part and parcel of the club's double-winning success of last season.
"Last season was amazing," continued Skinner. "It meant so much to all of us, especially given the disappointment of previous years. Personally, I felt so lucky to be part of it all and I'll have those memories with me for the rest of my life.
"The downside, though, was just the fact that we couldn't celebrate it all with the fans or our friends and family. All that aspect was removed, so other than the odd FaceTime here and there, we could only celebrate within our group.
"That wasn't the best, especially when you think we'd just won Europe and then the Premiership a week later. Again, it was just weird. Whereas normally you'd celebrate with your friends and family – or you'd look around and there would be a crazy, drunk fan looking in you in the eye, showing you how much it all means to them, it just wasn't there.
"There was nothing, however, that we could do about it. We just had to make the most of the whole situation, which we did in the end. Now, the aim is to try and do it all again and try and win another Premiership."
That is certainly the aim for Rob Baxter's defending champions, whose victory at London Irish last time out guaranteed they will be among those contesting the play-offs for a sixth successive season.
Unlike last season where the Chiefs were head and shoulders above their top-flight rivals, this season has proved more testing for a variety of different factors.
"The longer international season, the weather, the Covid outbreak, it's all had an effect in its own way," explained the Exeter-born forward. "Add in the fact that we didn't have any real down time between seasons, it meant we had to had a period of reflection halfway through this season.
"We did that, things were said and done within the group and, as you've seen these last few weeks, we're back on track and in a good place heading into these final few rounds. Of course, there is still lots to do, starting with Newcastle this weekend, but we can't afford to let our standards slip.
"The drive and the excitement we have within the group is where we want it to be. All of us are in a great place and now we have to show that."
Whether or not the Chiefs can overcome current leaders Bristol Bears over these final three rounds remains up in the air, but for Skinner and his team-mates, the key focus remains on securing home advantage in next month's play-offs.
"The league is very competitive this year," he added. "As I said, there have been more challenges, but our focus here and now is making sure we get into that top two. We've seen in the past that you can finish top of the league, but then don't win the final, so if we are second and go on to win, I don't think we will worry too much.
"Right now, we know what we have to do and that all starts with Newcastle, who will be physical, abrasive and hard-working, just like they always are. Personally, I can't wait for the game, especially having fans back in, so it should be a great challenge."
And once the rugby is done and dusted, Skinner can then sit back and relax with his team-mates, several of whom he has teamed up with to produce 'Rib Tickler' cider.
Initially part of a development programme run in conjunction with the Rugby Players' Association, Skinner – alongside Sam Simmonds, Jonny Hill, Olly Woodburn, Toby Salmon, Phil Dollman, James Freeman and Pete Laverick – came up with the concept of working with Devon-based Sandford Orchards to produce the cider, the profits of which went to charity.
Two years on from launch, the product has gone from strength to strength and Skinner acknowledges the involvement he has had in the project will serve him well for life after rugby.
"It's been a brilliant project, which has worked well for us as players, but also for the guys at Sandford Orchard," he says. "It's given us something to work with away from rugby. All of us know rugby isn't forever, so it's important we don't have that massive drop-off and have something we can fall back on."
In essence, it seems the perfect blend for Skinner, who hopes to be toasting success not just today, but next month too.