Slow and steady for Hepburn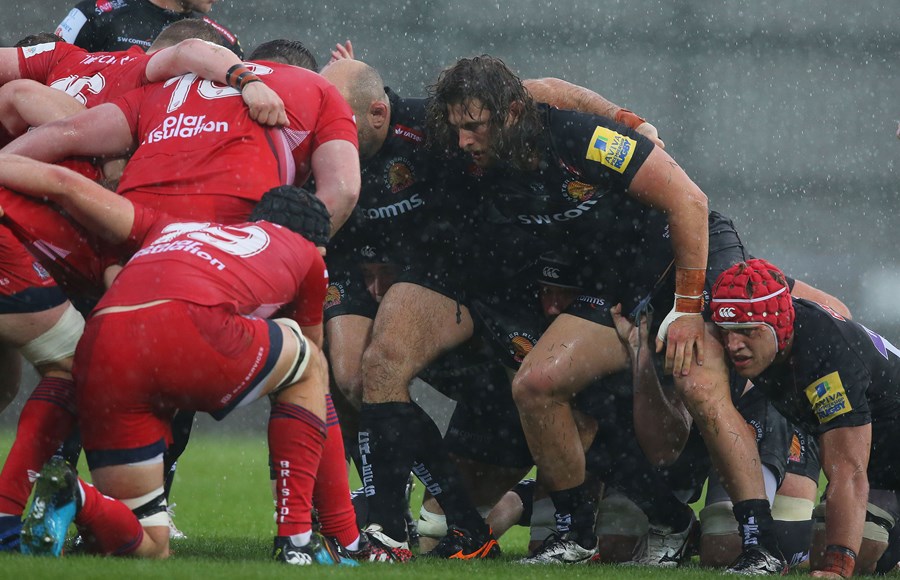 By Mark Stevens
13/9/17

Alec Hepburn insists he is happy to take a 'slow and steady' approach as he targets getting back to competitive action with the Exeter Chiefs.
Sidelined for almost a year, the all-action prop came off the bench during last weekend's Aviva A League victory for the Exeter Braves against Bristol United at Sandy Park.
It was a landmark moment for the 24-year-old, who having broken his hand initially in an away game at Northampton in September 2016, then ruptured his anterior cruciate ligament and damaged cartilage in January after slipping during training.
Some dark days have followed since for the Perth-born forward, but the sight of him returning to action for the Braves provided not only to the man himself, but also the Chiefs and their Director of Rugby Rob Baxter who are well aware of the skill-set he brings to proceedings.
"It was nice to get out there and play because it's been a while," reflected Hepburn. "The key, however, is to now stay on top of things and you're always on the hamster wheel of prehab and rehab."
His 40-minute cameo was simple enough, but Hepburn - who in the summer of 2016 was one of the stand-out stars on the England Saxons tour to South Africa - knows he still has plenty to do before he is back to his rampaging best.
"The focus right now is on getting right," he added. "I had a run around today, but as I said I need to keep on top of things. I still have lots to work on, including getting back into the grind of full-time training again. If I can stay fit and the more I train, it puts me in good stead.
"Today was a very nice moment, albeit short-lived, but it was good to be back out there again."
Like any professional player, Hepburn lives for the buzz of match-days and having watched his team-mates secure the Aviva Premiership title last season, he is keen to get back out there and help play his part.
"There were a few dark times, but the guys are great here and having those good friends helps get you through those times," explained Hepburn. "As a group we spend a lot of time together, not just at the club, but outside of the place as well. It's about enjoying yourself, having a laugh and making light of things.
"The tough bit for me was having the best seat in the house, right next to everyone, and seeing them go in and out of the changing room each day. That's tough, but it adds fire in the belly.
"As players we want to see the team go well, but I was hugely envious when the boys won [at Twickenham]. We're all competitors and we all want to be out there. Being on the sidelines is different to being out there on the pitch, you can't sum it up any other way, but it was a brilliant achievement and hopefully we can have even more in the future."