Chiefs edge out Lions in friendly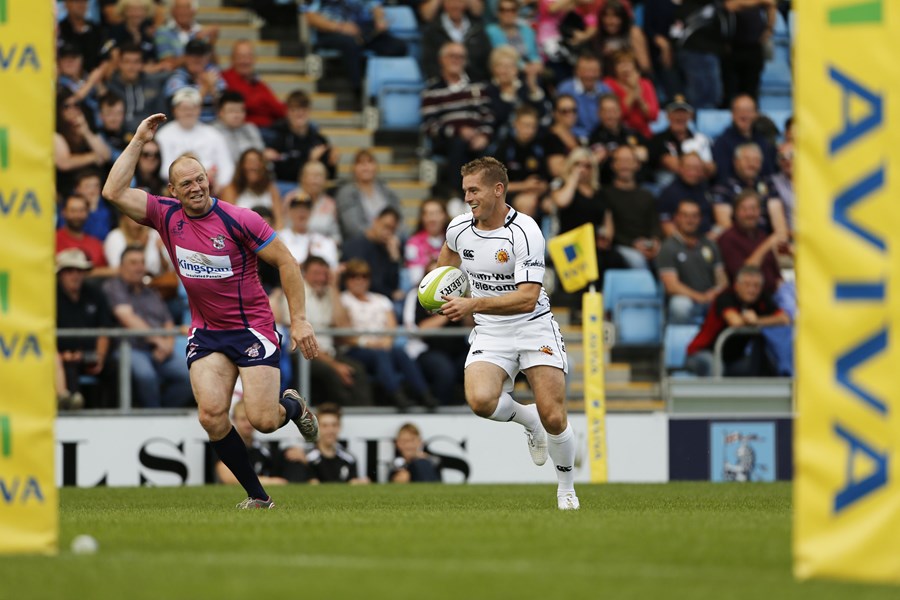 By Mark Stevens
12/8/17

Rugby returned to Sandy Park with a bang as a bumper crowd were treated to a plethora of points in Gareth Steenson's Testimonial Match at the home of the reigning English champions.
The prolific marksman will be celebrating ten years in the colours of Exeter Rugby Club this season and he was the star attraction in a fixture which brought together many of the club's Championship winning squad of 2010 against a star-studded Classic Lions outfit.
The two sides shared 21 tries in an entertaining encounter, watched by a crowd in excess of 7,000 people, which the Chiefs won 69-65.
As well as the stars of Exeter's promotion winning year seven years ago, there were a glut of other household names on show, which included the likes of David Flatman, Danny Grewcock, Lee Mears, Ceri Sweeney and Mike Tindall, as well as current British & Irish Lions star Jack Nowell.
The Chiefs dominated much of the first half and were in front 36-17 at the turn. Irish winger Paul McKenzie helped himself to a hat-trick of tries, while there were further touchdowns for Bryan Rennie, Nic Sestaret and Matt Jess.
In reply, Nathan Brew and Gareth King both found their way over the whitewash for the visitors, who were helped momentarily just before the break when Exeter Rugby Club chairman and chief executive, Tony Rowe OBE, was jokingly yellow-carded by former international referee Tony Spreadbury for a scrum infringement.
The second half saw the Lions – playing their first-ever fixture in the United Kingdom – reduce the deficit further as they hit the Chiefs with three tries in a ten-minute spell.
Spreadbury awarded them a penalty try just two minutes into the second period, before Spencer Brown and Gareth Gravell found their way over the line to leave them two points adrift at 36-34.
The day, however, was all about Exeter's favourite No.10 and Steenson, who had been joined on the field momentarily by brother Johnny, got his name on the scoresheet when he latched onto a cross-field kick from Mark Foster to dot down under the posts for the try, which he also converted before departing to a standing ovation.
Tries continues to flow at both ends with the visitors adding further scores through Gareth James and Brown, while at the other end Gary Kingdom and Ruairi Cushion kept the Chiefs in front with touchdowns of their own.
The free-for-all scoring showed no sign of abating at Exeter added further scores through Simon Linsell and Andy Birkett, while the Lions countered with efforts from Richard Carter (2) and Evans.
Sadly, the Lions fell just short, but it didn't really matter on a day when folk were in place to salute the achievements of Steenson.
Post-match, Exeter's leading points-scorer said: "I've been blown away by the whole day. It started last night with an evening with all the old boys and the Lions lads and it's continued into today with the game, which was absolutely fantastic.
"To have so many of the 2010 boys back together again and pulling on the jersey is something we've never thought we'd do again. Almost immediately it felt like the old days and we were all enjoying the craic.
"I have to thank the guys from the Classic Lions as well, without them today wouldn't have happened, so it's been brilliant to have them come down to Devon and play in what was a brilliant occasion for all of us."
Chiefs: M Foster; M Jess, N Sestaret, B Rennie, P McKenzie; G Steenson, H Thomas; B Sturgess, C Budgen, H Tui; T Hayes (capt), C Bentley; T Johnson, A Miller, R Baxter.
Replacements Used: N Beaton, T Bedford, A Birkett, K Brooking, G Channing, M Cormack, R Cushion, M Dibble, A Dudley, G Fleming, J Fleming, S Jenkins, G Kingdom, S Kingsland, S Linsell, B Moon, K Northcott, J Nowell, R Pugh, M Rawlings, T Rawlings, T Rowe, J Satt, J Steenson, C Stuart-Smith, T Yapp
Lions: G King; N Brew, J Hawker, M Tindall, S Brown; C Sweeney, R Rees; D Hilton, L Mears, D Flatman; D Grewcock, A Jones; L Beech, J Forster, J Paramore.
Replacements Used: A Black, G Bowen, R Carter, C Davies, G Evans, C Fortey, G Gravell, G James, W James, A Jenkins, R Jenkins, M Powell, P Rogers, N Strong
Referee: T Spreadbury