Tackling Health programme proves a smash hit with youngsters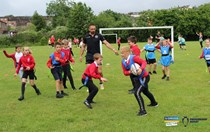 By Mark Stevens
15/7/21
As another school years comes to an end, so the Exeter Chiefs Community department are bringing to a close another hugely successful period of delivering their Greggs Foundation Tackling Health programme to children locally.
Delivered nationally by all Premiership Rugby clubs, the Tackling Health programme is an interactive project for children aged seven to eight, which takes a holistic approach to teaching children about their own health, well-being and leading a healthy lifestyle with a rugby focus.
The Greggs Foundation already has a relationship with many primary schools through its Breakfast Club Programme, but has joined forces with Premiership Rugby to help improve physical activity and literacy among Key Stage Two children across the country.
The key aims of the project, which is also supported by Public Health England, are to improve young people's understanding of what constitutes healthy eating and a healthy diet and to increase levels of physical activity, including playing tag rugby among their class-mates.
Now well established as one of the core Chiefs Community delivery programmes, the club's coaches have this year visited over 100 different classes, working with over 3,000 primary school pupils in Devon.
Richard Bright, Delivery Manager for the Chiefs, said: "Once again, we feel this programme has been a great success, with pupils always engaging in both indoor and outdoor sessions. We have not only had many children benefit from understanding more about the foods they eat and the importance of sticking to not only a healthy diet, but also providing them with an outlet to enjoy physical activity has proved hugely beneficial.
"As always, we owe a massive thankyou to Greggs Foundation for funding this programme, and allowing it to be possible, but also to all of the schools, the teachers and pupils for their commitment to the programme."
For more information and to download key Tackling Health resources, visit www.premiershiprugby.com/tacklinghealth and for more information on the Greggs Foundation please visit www.greggsfoundation.org.uk