Townsend eyes return to action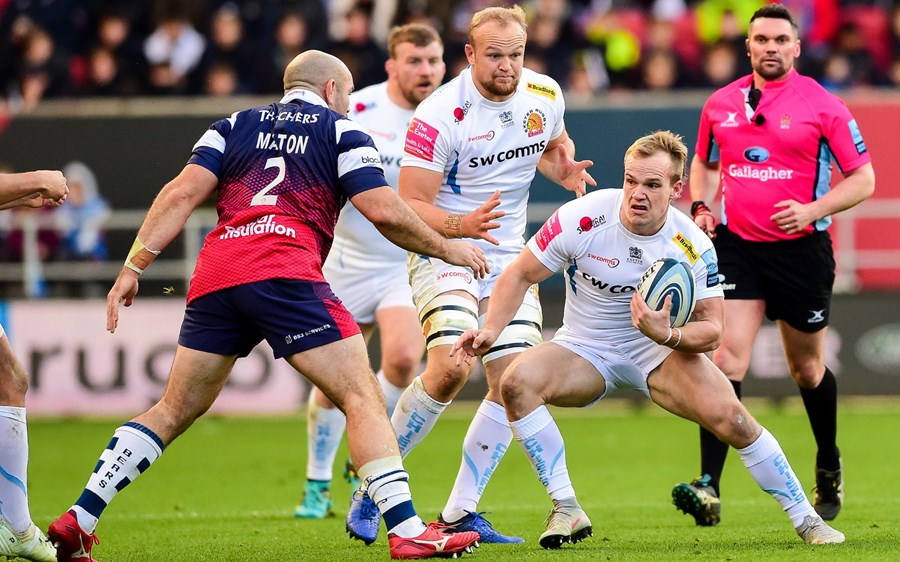 By Mark Stevens
10/9/19
Stuart Townsend says he's ready to put months of injury hell behind him as he targets a return to competitive action with the Exeter Chiefs.
The 23-year-old had only been on the pitch for five minutes during Exeter's Heineken Champions Cup clash at home to Gloucester last December when he picked up an anterior cruciate ligament injury.
Nine months on, the talented scrum-half is edging ever closer to being back on the field having undergone an arduous rehabilitation process.
"It's getting there, getting better," he said. "We're close now, I've done a few pitch runs now, but I just need to get a bit of strength into it, a bit of load into it, and then hopefully I'll get back out there with the boys."
With the new 2019/20 season starting later than normal due to the upcoming Rugby World Cup, the delayed start has given Townsend additional time to get himself ready for action.
"Pre-season has worked in my favour, I've had a bit more time and it's allowed me not to rush things and get everything right."
The return of Townsend will be a welcome boost for Chiefs' Director of Rugby, Rob Baxter, who is set to be without first-choice number nine, Nic White, for the opening weeks of the season as he is at the World Cup in Japan with Australia.
Townsend – already a Premiership winner with the club in 2017 – is one of a number of players in the current Chiefs squad who have made their way up through the club's academy ranks to that of senior status.
It's been quite a rise for the Torquay-born back, but he believes there is still 'more to come' and he will be hoping to make up for lost time once he returns this term.
"I felt like I was improving year on year and settling into that first team role, but injuries set you back and you've got to build back up into the team and earn your stripes again," he added. "As I said, I'm looking forward to that, getting back and giving it a good go."
The injury – an untimely one at that for Townsend – meant he was forced to sit out a large chunk of last season, which saw the Chiefs reach the Gallagher Premiership Final for the fourth successive year. Sadly, they were unable to match their triumph of two years' previous, losing out narrowly to Saracens in an epic finale at Twickenham in early June.
"It's one of the frustrating things as a player," he commented. "Watching the boys run out each week and you've got to sit there and watch them do it and you can't do anything to help them.
"You can't even help them in training because you can't train against them. But when they're doing well, you've got no complaints and you can sit there, but when things are going a little bit wrong you can't do anything and it's quite a frustrating place to be."
Frustration has certainly played its part for Townsend over the last nine months, but he has praised the club's medical and S&C staff in helping on his road to recovery.
"With the physios and conditioning coaches, we're always going to be thankful for what they do for us, but they do push us pretty hard and at times it's quite a dark, lonely place to be on your own doing weights, running or fitness," he admitted.
"But, hopefully in the long haul, it pays off and I come back fitter and stronger."