White named in Wallabies squad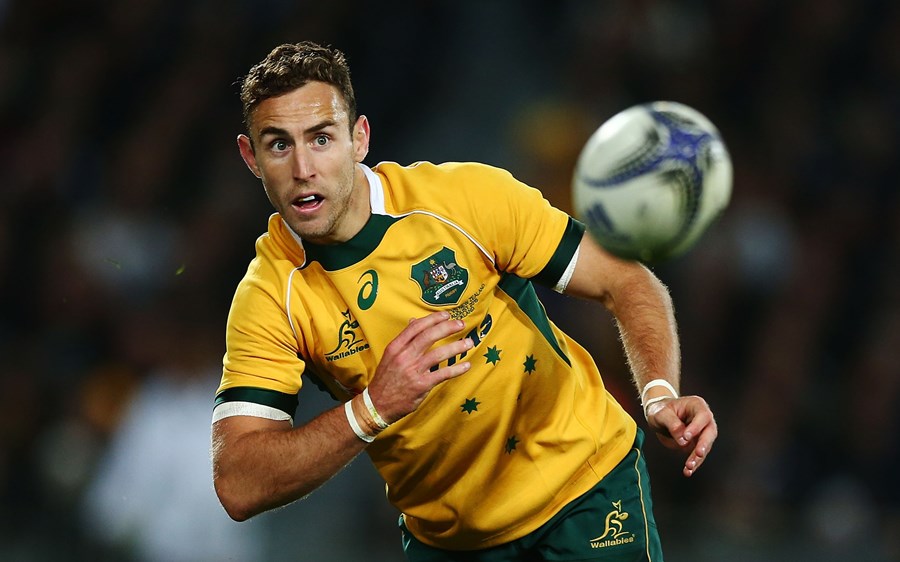 By Mark Stevens
4/7/19
Nic White's club form for the Exeter Chiefs over the past two seasons has been rewarded with a recall to the international stage for the gifted scrum-half.
Having been omitted from Australia's squad for the Rugby World Cup in 2015, the 29-year-old opted to leave his homeland and continue his playing career in Europe, firstly with Montpellier - whom he spent two seasons with - before joining the Chiefs during the summer of 2017.
Since arriving in Devon, White has established himself as Exeter's first-choice No.9, helping the club to the top of the Premiership for the past two years after the regular season, as well as successive Premiership Finals at Twickenham.
Not surprisingly, his form has been noticed back home by Wallabies coach Michael Cheika, who in May sounded out the player about an international recall, providing he was prepared to head back to play in Australia following the commencement of his playing contract with the Chiefs.
It's a decision which benefits all parties, including Chiefs Director of Rugby Rob Baxter who said in May he could not stand in the way of White playing in a World Cup.
White will join an as yet unnamed Super Rugby franchise next year and in so doing will now be eligible for selection by the Wallabies for the upcoming Rugby Championship, as well as this autumn's showpiece event in Japan.
"Nic's got our full blessing," Baxter told BBC Sport. "He's fully contracted for this season coming, but by signing for an Australian franchise, that allows Australia to pick him now which makes him available for the World Cup. Nic's always wanted to play in a World Cup, it's been a big ambition of his.
"As much as we'd like Nic to stay here long term, he's a very good player for us and done very well, there is a reality that we also think it's part of what we're about that if we can help someone reignite their career and do well that we don't want to stand in their way."
In a similar move ahead of the 2015 Rugby World Cup, former Chiefs skipper Dean Mumm headed home to Australia to re-sign for the Waratahs - a decision which enabled him to be part of the national squad that got to the World Cup Final that year, losing out in the end to New Zealand at Twickenham.
White returned home last month with his wife Mel and their young son Leo and headed straight into the Wallabies camp ahead of today's squad announcement.
His inclusion by Chieka in the Championship squad marks a first return to the international fray for White since the last of his 22 Test appearances back in August 2015 against the All Blacks at Eden Park.
"I don't know if I'm giving him a chance, I think he's earnt it," Cheika said of White. "His form over in the UK has been outstanding and that's why we pushed hard to get him back.
"He's finding his voice inside of the team already and he's another different personality. We've got some really good options at no.9 right now. You see players of the calibre of Nick Phipps and Jake Gordon not in the squad.
"So that gives us some good options. White brings something a bit different and it's going to be interesting when they start competing for the Test spots."
The Wallabies squad leaves for South African on Sunday ahead of their Rugby Championship opener against South Africa at Ellis Park in Johannesburg on July 20.
"That's the biggest stage there in South Africa," Cheika added. "It's going to be unreal and I'm sure in a World Cup year it's going to be a great atmosphere.
2019 Rugby Championship
Round One
South Africa v Australia, Johannesburg, Sunday July 21, 1:05am
Argentina v New Zealand, Buenos Aires, Sunday July 21, 8:40am
Round Two
New Zealand v South Africa, Saturday July 27, 5:35pm
Australia v Argentina, Suncorp Stadium, Brisbane, Saturday July 27, 8pm
Round Three
Australia v New Zealand, Optus Stadium, Perth, August 10, 8pm
Argentina v South Africa, Salta, August 11, 5:40am
Extra Tests
New Zealand v Australia, Auckland, August 17, 5:35pm
South Africa v Argentina, Pretoria, August 18, 1:05am