Young Chiefs help bolster Titans squad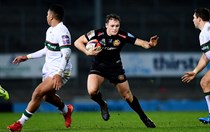 By Mark Stevens
3/8/20
Exeter Chiefs will be helping to supplement the squad of newly-promoted Taunton Titans ahead of their first season in National League One following news that six of the club's young players will be joining on dual-registered terms.
Cory Teague and Tom Wyatt, both of whom featured prominently for the Somerset club last season, are returning to Hyde Lane – and so too will be fellow academy products Matt Johnson, Harry Hocking, Danny Southworth and Charlie Wright.
Southworth is heading back to Taunton for a second spell having featured with the Titans two seasons' ago, while fellow forwards Johnson and Wright have also worked with head coach Tony Yapp at the University of Exeter.
Yapp, himself a former Chief, said: "We are very excited to have the four academy players on board and they will be joining up with Cory and Tom who were also with us last season.
"Having worked with a number of the boys previously, I don't doubt for a second the quality they will add to the squad. They are all good guys who are very driven and determined to do well. Their character and their attitude to working hard is a real good indication that they're going to do very well for the Titans."
Chiefs' Senior Academy coach, Haydn Thomas, says getting the players out to a club like Taunton is a 'win-win' for everyone.
"It's very important to us that we have such strong links with our local clubs," he said. "Over the years we've seen a large number of young players really develop, both on and off the field, because of the exposure they have gleaned from going out either on loan or dual-registered terms.
"Not only do we know that they will get quality coaching, but getting regular game time at a senior level in the National Leagues is a key component in helping them to develop and show their qualities to the coaches here at the club."