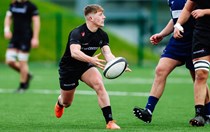 By Neale Harvey
15/1/21
Faced with the veritable battalion of scrum-halves standing in his way at Exeter, you might expect 18-year-old Tom Cairns to feel somewhat daunted. Not a bit of it, however, as the Teignmouth-born youngster plots a route towards breaking into their first team.
"I've been training with the senior squad for a while now and I'm really enjoying it," says Cairns, who hails from the same secondary school as Sam and Joe Simmonds and also played his junior rugby at Teignmouth RFC before entering Exeter's junior academy at 15.
"The competition's always in the back of your mind but at the moment I'm just learning as much as I can off the senior guys. Being around people like Jack and Sam Maunder, Sam Hidalgo-Clyne, Stu Townsend and Joe Snow, they're all top-quality players. They're all different and we have a good craic, so I try to take on board something from all of them."
It is an Exeter scrum-half who is no longer at the club who has made the biggest impression on Cairns, though, as he explains: "When I first came into the junior academy, Nic White was here and he was always be giving me tit-bits of information. I really enjoyed watching him and, being a local boy, the opportunity to train with him was really pretty surreal.
"Just the way he played, especially in the Premiership with the tempo he played at and his precision and accuracy, everything was on point. That's another thing you can take from all the No.9s at the club and a lot of that is down to the coaching of Ricky Pellow. He spends loads of time with the boys working on their skills and he makes it so enjoyable."
Cairns will not turn 19 until next June but such has been his rate of progress that he was heavily involved by England U20s in their recent North v South trials.
He said: "I was lucky enough to be invited with some of the other boys at the club and it was a bit of a shock to the system to be honest because I didn't expect to be involved. But I was happy to be part of those camps and I played in three of the four games.
"It was a great experience and getting back on the pitch was the main thing – just playing a game again. It's one thing doing it in training, but I hadn't played a proper game since March and just to get your hands on the ball again was perfect. Alan Dickens was very helpful and he didn't stress too much about mistakes, it was just about getting guys playing."
An admirer of French No.9 Antoine Dupont – "He's just different" says Cairns – the target now is to break into the U20s Six Nations squad. Cairns added: "Since being at college, I've always wanted to get something going internationally. To get invited into those camps was brilliant and once you get into that environment, it makes you push harder for more."