Youngsters will learn from defeat - Baxter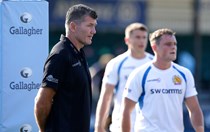 By Mark Stevens
14/9/20
Rob Baxter insisted it was far from 'doom and gloom' despite seeing his Exeter Chiefs side slip to their first defeat since Gallagher Premiership Rugby returned last month.
Having collected six wins out of as many games ahead of Sunday's trip to Saracens, a youthful Chiefs line-up were undone at Allianz Park as the defending champions ran out 40-17 victors.
A powerful second half surge from the Londoners ensured their success, but it mattered very little to Baxter, who despite losing, knows his squad have ensured not only home advantage in next month's play-offs, but also top spot at the end of the regular campaign for a third successive season.
Speaking post-game, the Chiefs' Director of Rugby, said: "It was a bit of battle out there, which we thought it would be. Ultimately, I don't mind saying it, we're a little frustrated we didn't get a bit more out of the game, just because we felt there was a bit more out there for us to go and grab.
"We conceded some soft points and we made some errors, which were a little uncharacteristic from our point. Moving forward, we need to learn from that and the younger, inexperienced players in the group maybe just need to gain that bit of appreciation of why you do some things and why you practice some things, but you have to make those mistakes to really learn.
"That is what is good about today, we can now review in quite some details with those players who haven't had a great amount of game time in the Premiership, so the message of what is good, what works and what potentially puts you under pressure, they can all learn from."
In a much-changed Chiefs line-up, which included ten of the starting XV making their first-ever Premiership starts, Baxter insisted the fixture would act as the ideal learning tool for both coaches and players to work from.
"We had times when we got things right and looked pretty decent," added Baxter. "But, we also had times where we couldn't consistently put five, six or seven blocks of things together that you need to make happen to move up field and create pressure."
Results elsewhere on the day meant the Chiefs took to the field knowing they had already secured home advantage in next month's play-offs, as well as top spot in the league for a third successive season.
"Despite today's result, the weekend is not all doom and gloom for us," said Baxter. "If you look at this block of games since restart, we've secured No.1 spot in the Premiership and we've booked a home semi-final. Everything we can potentially get out of the Premiership at this stage of the
season, we've got. Now, we have to shift our focus onwards, starting on Tuesday, where I've just told the lads we have to get ourselves ready to have a really good training week leading into a European quarter-final against Northampton.
"As a group, we can't dwell on this for too long. Instead, we have to use it as an opportunity to move these young players forward. We'll challenge them at what we know they can get better at, what they can improve, and just the overall experience of today which will keep them developing as players."
Next up for the Chiefs is Sunday's European showdown with Northampton Saints, a side who are struggling for form in the league, but who Baxter knows can more than cause a problem.
Baxter said: "The biggest mistake you can make in a situation like this is to look around at a team who maybe are struggling and think the job is done, because it's simply never that easy. Northampton can come to our place and can throw everything at us, because everything they gain will be an advantage and everything they get, that will give them energy.
"What we have to make sure is we: a) meet that intensity and come over the top of it - and b) maintain our cool and composure, so that we keep doing the things we do, because that is what will ultimately decide the game."