Zackary leads USA against Red Roses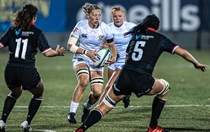 By Harry Scott-Munro
20/11/21
Exeter Chiefs co-captain Kate Zackary will again lead her USA Eagles side as she moves to open-side flanker ahead of their final test of their autumn tour against England Women in Worcester.
Zackary has been an ever-present for her country during the Autumn period and she will be joined in the starting line-up by Chiefs team-mate Jennine Detiveaux, who is set to feature for the first time.
Head Coach Rob Cain has made nine changes from last week's match against Ireland, that saw the Americans suffer a 20-10 defeat in what was their first away international in three years.
The American defence and line-out execution was again a strength, as they scored two tries thanks to the hands of Bulou Mataitoga in the first half and Elizabeth Cairns in the second. The Eagles continued to dominate large periods of play until the end but, unfortunately, couldn't execute their multiple scoring opportunities in the second half.
Among the changes for Cain's side, Charli Jacoby returns at prop, whilst there is somewhat of a reshuffle in the pack with Exeter Chiefs star Rachel Johnson ruled out through injury. Hallie Taufoou moves into the second-row, Zackary is in at flanker and Kristine Sommer at No.8 It's all change on the wing as well with Kayla Cannett and Detiveaux replacing Bulou Mataitoga and Tess Feury.
Speaking ahead of tomorrow's match, Cain was aware of the challenge his side were up against.
"Playing England in England, the best team in the world, presents an exciting challenge and opportunity for us this Sunday," he explained. "Under Simon Middleton, they have thrived off their pressure game in their ability to create and control it, with multiple outlets to do so. They have been extremely successful the past three weeks against some of the world's leading teams.
With little under a year until the World Cup, the tests this November have allowed Cain's side to gain much-needed international exposure prior to their campaign in New Zealand.
"This tour has also highlighted the importance of playing test matches and getting real-time pressure games both domestically and at this level. Given over 80% of the squad hasn't had the opportunity to play high level matches for the past two years, playing what will be our 4th test match in 20 days against a team like England gives us a real opportunity to showcase our adjustment to that pressure."
USA EAGLES TEAM TO FACE ENGLAND WOMEN
15. McKenzie Hawkins Colorado Gray Wolves
14. Jennine Detiveaux Exeter Chiefs
13. Amy Talei Bonte Gloucester Hartpury
12. Katana Howard Sale Sharks
11. Kayla Canett USA Sevens
10. Megan Foster San Diego Surfers
9. Carly Waters Saracens
1. Hope Rogers Life West Gladiatrix
2. Saher Hamdan Life University
3. Charli Jacoby Loughborough Lightning
4. Hallie Taufoou Colorado Gray Wolves
5. Alycia Washington Worcester Warriors
6. Rachel Ehrecke Colorado Gray Wolves
7. Kate Zackary Exeter Chiefs (capt)
8. Kristine Sommer Gloucester Hartpury
16. Kathryn Treder Beantown RFC
17. Maya Learned Gloucester Hartpury
18. Nick James Sale Sharks
19. Jenny Kronish Beantown RFC
20. Elizabeth Cairns Life West Gladiatrix
21. Olivia Ortiz Davenport & Chicago North Shore
22. Joanne "Nana" Fa'avesi USA Sevens
23. Sarah Levy USA Sevens