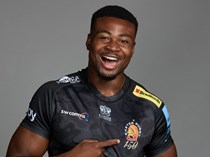 A rising star within the modern-day game, Christ Tshiunza only took up rugby as a way of making sure he was still hanging out with his school mates.
Now, the 6ft 6in, 17st 11lb forward is realising not only his dream, but also his undoubted potential, which has already brought him so much in such a short space of time.
Born in Kinshasa, Democratic Republic of Congo in 2002 when the country was gripped by a second national war, his father Felix took him, his wife, their four daughters and youngest son Christ away to Wales in 2010.
Living in Splott, then Llandaff the Tshiunzas (pronounced Chun-za), a church-going Christian family hence their son's name, initially spoke no English – but 11 years on their youngest won his first cap for Wales in their Autumn Nations Cup against Fiji at the Principality Stadium.
In doing so Tshiunza completed a remarkable set of debuts; playing his first games for Wales Under 20s, Exeter Chiefs, Exeter University and the Wales national team, in that order, in a matter of months.
Aged 13 he joined Whitchurch, that great Cardiff sporting institution, having taken up rugby as a joke the year before. He was not enormous then, but by 15 had shot up five inches in no time.
When selected for Cardiff Schools Under-15s, Tshiunza was not first choice by any means. He was, however, an incredible athlete – a self-proclaimed Paul Pogba on the football-field, he cleared 1m 80cm in the high-jump and ran a 25-second 200m aged 17.
As he developed, Tshiunza would enter Steve Williams' office at Whitchurch Boys High School and look at the pictures on the wall – 80 or 90 sportsmen, from Olympians to cricketers, megastar footballers to Tour de France winners.
Playing for Whitchurch and Rhiwbina, Tshiunza was earmarked as a hot talent. Cardiff took him into their academy, but with the help of their university links, track-record, Rob Gibson and Rob Baxter, Exeter whisked him away.
Player gallery (Tap images to zoom)