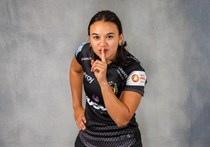 Talented fly-half Nancy McGillivray grew up playing rugby in Hong Kong, starting at the age of eight.
At just 15 years of age, she was selected as part of the Hong Kong U18s side that travelled to France.
During her gap year, she was selected as part of the wider training squad for both Hong Kong's senior 15s and 7s sides.
This led to her selection for Kowloon Rugby, for whom she played in the Hong Kong Women's Premiership.
McGillivray is currently studying at Exeter University, and has been named as part of the England U20s squad for the coming season.