Williams hails HITZ success stories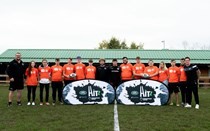 By Mark Stevens
20/7/20
Exeter Chiefs HITZ officer Gareth Williams has spoken of his pride at what has been a 'fantastic' year for him and his team based at Topsham Rugby Club.
HITZ is Premiership Rugby's award-winning education and employability programme, which works with over 2,000 14-18 year-olds across England every year. It uses rugby's core values of teamwork, respect, enjoyment, discipline and sportsmanship to get young people not in education, training or employment (NEET) back into education, training, apprenticeships and/or employment, and is delivered nationally by England's 12 professional rugby clubs.
HITZ is Funded by partners Land Rover, Comic Relief and Wooden Spoon, it also offers essential enrichment and sporting activities which supports the development of the individual through not only improving their mental, but physical wellbeing as well.
Despite the global COVID-19 pandemic, Exeter's HITZ programme has continued to flourish with Gareth and tutor Louis Griffiths providing regular video calls, fitness sessions and quizzes, as well as daily tasks and discussions about current affairs.
"Staying connected has been essential to our success during the lockdown period," explained Gareth. "Our tutor Louie has been an absolute superstar with all the work he has put in, while the group's educational success has been down to his support and their own hard work."
The success of lockdown, however, is only a small part of the excellent work the Exeter HITZ team have produced this year, including three of the students - Billy Duffy, Cameron Whitehead and Josh Screech – all collecting prizes at the annual HITZ Awards ceremony held in London.
Josh has since got a job as a support worker for a man with learning difficulties, while another student, Callum Pope and his partner, have set up their own business called Revive and Liven.
Helping add to the support network for all the students have been volunteers Andy Bassett, Juliette Mill and James Cook.
"Again, I can't thank Andy, Juliette and James enough for the support they have given," added Gareth. "Andy has brought with him a wealth of leadership and business knowledge, Juliette is a professional photographer who has helped to add art and languages to our curriculum, while James is a rugby coach who has a real passion for working alongside our team."
Already plans are in place for work on the start of the new HITZ programme, which will get underway in September. Already 17 students have signed up with Gareth hoping to add more between now and the start date.
With a 91% attendance rate this year, one of the highest nationally, plus figures of 100% on both retention of learners and those who had completed the main education programme, these are indeed exciting times for the HITZ scheme.
"Although the pandemic has affected us in terms of employment for the team, we have six who are either working or creating their own businesses, while many of the others are moving onto another programme at HITZ or moving into further education," added Gareth.
To find out more about the Exeter HITZ programme, simply click here