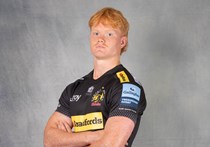 Finding his feet more firmly in the Exeter Chiefs squad for the 2023/24 season, back Ben Hammersley got his first introduction to rugby at the age of six with his local club, Hertford RFC.
When his family moved to Cornwall a few years later, the young back quickly found himself a new club at Newquay Hornets RFC, where he would feature up until Colts level.
Part of the Cornwall DPP programme, Hammersley continued his rugby development at Truro College before moving up to Exeter in 2021 to start at the University, where he is currently studying for a degree in Sports Science.
He was part of the successful University of Exeter BUCS winning squad of 2022.