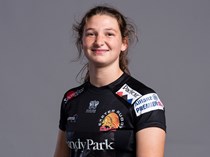 Halfback Flo Robinson burst onto the scene last season for Susie Appleby's side, making 17 appearances in a breakthrough campaign.
Her performances for the Chiefs saw her selected amongst the replacements for England against France in the spring, with Simon Middleton continuing to keep a close eye on her progress.
Robinson's speed around the base of the ruck saw her selected for the England Under-20s Summer Tour in 2019.
Now firmly established as a key player in Susie Appleby's plans, Robinson's seed of pass has become a firm feature of her performances for the Chiefs.
Her sister Emily plays for Premier 15s rivals Harlequins, against whom Flo earnt her first start for the Chiefs.