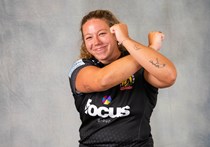 Barnstorming prop Hope has been a revelation since joining Susie Appleby's side in January, scoring almost a try per game on average.
Having made her international debut in 2013 against France, Rogers has since made 42 appearances for the Eagles and represented the USA in the 2014, 2017 and the 2022 World Cup, as well as representing the Barbarians against South Africa, in front of a record Twickenham crowd.
Hope began her rugby journey at high school in 2009, where she played No 8, before moving to the front row after beginning her studies at university.
Her time at Penn State University was a huge success, as she won four National Championships and two MVP awards.
Rogers also made her 7s debut in 2017 and has 3 USA 7s Caps.
Hope enjoys mountain-biking, snowboarding and hiking and claims to be able to quote all of Jim Carrey's version of The Grinch.